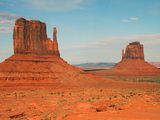 Monumental Mittens
"The Mittens" are a pair of buttes in Monument Valley, Utah. Each of these formations includes a thick tower of rock with a thin spire alongside it, making the two buttes look like a giant pair of mittens.
single hill or rock formation that rises sharply from a flat landscape, usually in a desert.
caprock
strong, hard rock that remains on top of a mesa.
debris
remains of something broken or destroyed; waste, or garbage.
elevate
to raise higher than the surrounding area.
act in which earth is worn away, often by water, wind, or ice.
geographer
person who studies places and the relationships between people and their environments.
broad, flat-topped landform with steep sides.
Monument Valley
national park with very large rock formations (buttes), in the U.S. states of Arizona and Utah.
large region that is higher than the surrounding area and relatively flat.
rock
natural substance composed of solid mineral matter.
scree
accumulation of broken rocks, boulders, and other material at the base of cliffs or other tall rock formations.
spire
tall, thin structure, often on top of a building.
steep
extreme incline or decline.
the breaking down or dissolving of the Earth's surface rocks and minerals.