Physical Oceanography

Use these illustrations with students in Grades 9-12 to explore various marine ecosystems.

Explore ocean surface currents, chlorophyll levels, surface temperatures, and bathymetry using this interactive map.

Find out how scientist and engineers map the ocean floor—and avoid running into rocks, reefs, and underwater mountains!
Exploration

Did you know that 98% of the ocean remains unexplored? Dive into unknown depths with this GeoStory.

Be at the forefront of exploration and travel around the globe alongside history's favorite explorers with this GeoStory.
Ocean Cartoons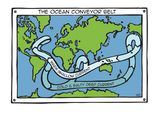 Thermohaline circulation, better known as the "ocean conveyor belt," moves water around the planet.
---
---
More from National Geographic
---