Debris Tracker

Want to help solve our planet's growing plastic pollution problem?
This app enables tracking of litter anywhere on the planet for scientific research. Please note that during the global pandemic, you should safely track—but not touch or pick up—litter. Stay Safe
By collecting data about litter wherever you see it, from the ocean to your backyard, you can contribute to critical scientific research. Help scientists and researchers better understand the bigger picture of the plastic pollution crisis, from global trends to impacts on local communities. To get started, all you need to do is download the free Marine Debris Tracker mobile application, also called Debris Tracker, on your smart device.
Litter that ends up in the environment can harm or kill wildlife, while also damaging and degrading habitats. While some items that end up as waste could have once played a critical role in keeping people safe and healthy, like medical or protective equipment, litter can threaten navigational safety, economies, and human health. Marine debris—any human-made item, commonly made of plastic, which makes its way to the ocean—is one of the most pervasive global threats to the health of the ocean. Scientists estimate that 80 percent of marine debris comes from land-based sources. To really understand this problem, we need data not only on the coast but also upstream in the communities where much of the problem starts.
The large Debris Tracker dataset needed for research would be impossible to collect without help from citizen scientists like you. Information you contribute can help researchers develop data-driven solutions to plastic pollution threats. Your community can also use the data to help drive positive changes locally.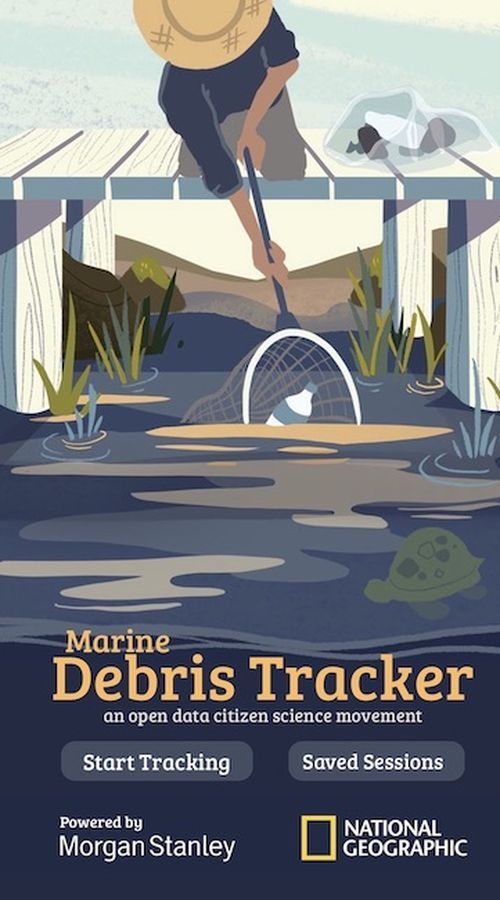 University of Georgia / Marine Debris Tracker

Learn more about the Debris Tracker app in this Sea to Source video.
True or False?
Take this quiz to check your plastic pollution understanding. Click the down arrow to see the answer.
How to Use Debris Tracker
Participate in ongoing scientific research simply by using the free Debris Tracker app. Follow the steps below to get started.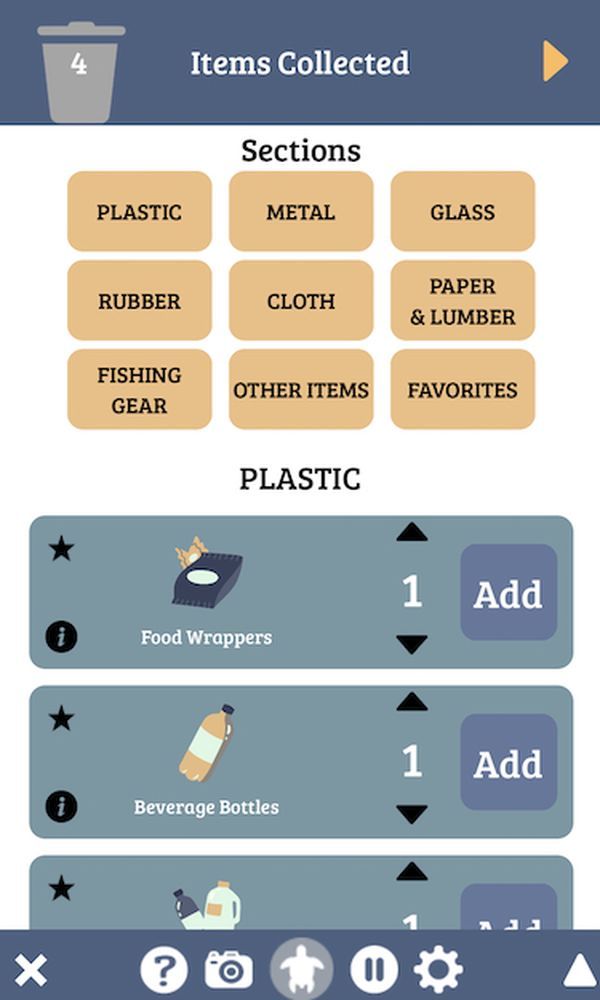 University of Georgia / Marine Debris Tracker
To join Marine Debris Tracker, download the free app for Android or iOS.

Open the app and allow it to access your location. This will enable geotagging of your logged items and your path.

Select "Start Tracking." Here you choose your project or organization. If you don't have one, just select "NOAA," or browse the descriptions linked to the "i" for each.

You will see a screen with an "Items Collected" banner and a trash can icon at the top. The number on the trash can shows how many litter items you have tracked in total for that session.

Below the banner are sections indicating litter categories. Select the categories you want to track and scroll through the blue-gray sub-list of specific litter items. Record the number of items you find of each litter type by tapping the "Add" button as many times as you need. You can also use the up/down-pointing triangles with the number, or change the number, before tapping "Add" to send to the trash can.

When done collecting, select the right-pointing triangle at the top-right to continue.

Review the items you have tracked and the map of your sightings. You can always go back to add or remove items. Return to select "Submit."

Once you "Submit," and you'll be asked to register. To earn credit on SciStarter for your participation in this project, please select "Log In Though SciStarter."

Another window will appear with options. If you have cell service or Wi-Fi access, you can click "Submit." If you don't, just save the session and submit the observations when you do. You can also email a CSV file to yourself.

Thank you for your submission! Now, you can optionally add a picture of your sightings or add a map and share your post with the world. If you choose to share, a story will be created on the Marine Debris Tracker website.
Geography of Plastic
Travel with one plastic drinking bottle, from the city of Chengdu, China, to a remote island in the Pacific Ocean.

Travel thousands of miles with a plastic drinking bottle to learn about plastic pollution and understand how it harms the ocean.
Education is Key
Find ways to engage people of all ages through formal and informal learning

This guide tells the story of the plastic pollution crisis and includes step-by-step instructions for taking action through Debris Tracker data collection. This guide is also available in Portuguese, Spanish, and French.

This no-tech, printable journal takes students of any age through a problem-solving process. Use it to think through our relationship with plastic, the problem of plastics, data collection mirroring Debris Tracker, and solution-finding. This journal is also available in Portuguese, Spanish, and French.
Plastic pollution is reaching a critical point; use these resources to teach students about the urgent issue of plastic in our waterways.

Even one of the most remote places on Earth couldn't hide from the scourge of plastic trash.

Plastic. It's super useful but it's also a big problem for the environment. Enough plastic is thrown away every year to circle the earth four times! The main issue is that plastic doesn't break down, meaning it sticks around for a very long time. This video gives a quick overview of the scope of the plastic problem and what some people are doing to try to solve it.

Sea to Source - Collecting Observational Data

Imogen Napper is a marine scientist studying how microplastics enter and affect natural environments. On the Sea to Source expedition to the Ganges River, Imogen took samples from every possible source to see where those microplastics were coming from. Learn how Dr. Napper measures microscopic pieces of plastic in the river's waters, along its banks, and even in the air. Understanding where they come from will hopefully help us eventually eliminate these toxic plastic particles from our lives.

National Geographic: Sea to Source - Collecting Geospatial Data

Environmental engineer and co-lead on the "Sea to Source: Ganges" expedition, Jenna Jambeck uses data collection in the Marine Debris Tracker app to inform her work. "If our waste is ending up in the ocean, we must be doing something wrong on land," she said. This is exactly what Jenna and the Sea to Source Expedition team went out to investigate as they traveled along the Ganges, in South Asia, collecting a variety of data. Join Jenna as she shows us how collecting spatial data is helping to tackle real-world problems.

National Geographic: Sea to Source - Collecting Socioeconomic Data

Lillygol Sedaghat works to educate those who live on the Ganges River about the dangers of plastic pollution and how to reduce the contamination of the waters. Sedaghat collects data to preserve the river and help slow down the influx of plastic from the local people.

We've all heard about plastic ending up in the ocean, but how does it get there? Join marine scientist and National Geographic Explorer Imogen Napper as she shows us just how the "Sea to Source: Ganges" Expedition team is tackling the ocean plastics problem. From land to water to exploring the socioeconomic behaviors around plastics - it is a multi-team endeavor to try and identify the root of the problem along one of the largest river systems. And hopefully, find a solution.
National Geographic is Taking Action
Find out more about ongoing scientific research and a multi-year campaign at National Geographic

Learn more about and join National Geographic's multiyear effort to raise awareness about the global plastic trash crisis.

Contribute research data to help tackle the plastic pollution crisis.
Professional Development Course
The most democratic goal of education is to develop engaged citizens who are able to investigate compelling questions about their community and the world around them.
In this course, you will hone your skills teaching data collection methods and tools so students can explore problems in their communities.
Powered by Morgan Stanley
Image at the top of the page by Kathryn Youngblood