Extreme Weather
Discover the dynamic and complex forces shaping our planet—and the surprising connections that help us understand and adapt to our ever-changing weather.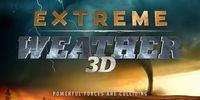 About Climate Change

This article provides a comprehensive overview of climate change—evidence and causes—with photographs and links to additional resources.

Find a collection of educational resources related to climate change and global warming.
Here's what you need to know about the warming planet, how it's affecting us, and what's at stake.
About Sea Level Rise

Explore photographs that provide evidence of the melting of glacial ice.
About Forest Fires

Travel with Wild Chronicles to Lancaster, California, to meet a special breed of firefighter that takes to the skies.

Join National Geographic photographer Mark Thiessen on the front line of one of nature's fiercest forces.
Challenge: Extreme Weather
New game coming soon