Based on Neil deGrasse Tyson's incredibly popular podcast of the same name, StarTalk bridges the intersection between pop culture and science as it brings together celebrities, comedians, and scientists to discuss the latest developments in our vast universe. Each week, Tyson and his fellow guests explore a variety of cosmic topics, including space travel, extraterrestrial life, the Big Bang, the future of Earth and the environment and breaking news from the universe.
This collection of educational content features a wealth of multimedia resources that facilitate learning about space.
---
Hooray for Hubble

Since NASA launched the Hubble Space Telescope in April 1990, it's captured countless jaw-dropping images of outer space. Check out some of Hubble's coolest shots.
---
More Resources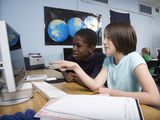 Find all of our media-rich educational resources created to support National Geographic television shows, films, magazine articles, and exploration.
---