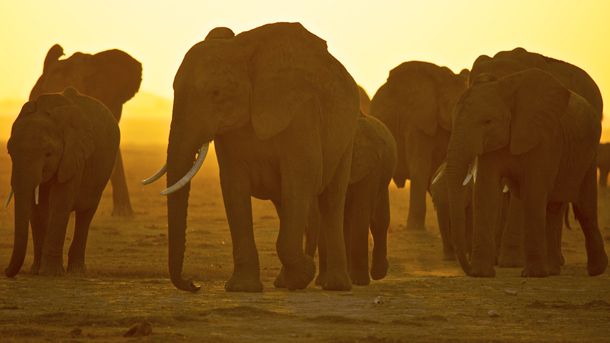 Photograph by J.J. Kelley
This collection of short videos and educational resources tells the story of the brutal slaughter of African elephants for their tusks and the market forces that are undermining the future of these charismatic and majestic land animals.
In these videos—clips from the National Geographic film Battle for the Elephants—investigative journalists Bryan Christy and Aidan Hartley take you on a journey that examines the supply and demand sides of the ivory trade. With Christy you travel to China to see the thriving ivory market and the ancient tradition of ivory carving. Hartley takes you to Africa, where he gains rare access to ivory stockpiles and goes undercover to expose the criminal ivory trade network. You also witness the devastating effects of poaching on the behavior of surviving elephants.
Generous support for this education program provided by David H. Koch, Scott Asen, and the Charles Englehard Foundation.
Elephant Poaching and the Illegal Ivory Trade
These videos examine the illegal ivory trade, China's growing demand for ivory, and the devastating effects of poaching on Africa's elephant population.
---
---
---
---