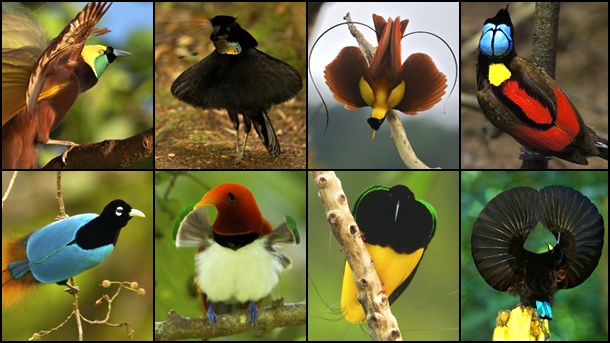 Photographs by Tim Laman
In 2004, Cornell Lab of Ornithology scientist Edwin Scholes and field biologist and National Geographic photographer Tim Laman set out to complete the first comprehensive study of all birds-of-paradise. After 8 years and 18 expeditions they have amassed photographic and video coverage of all 39 known species and documented several new behaviors.

Found only in New Guinea and parts of Australia, the birds-of-paradise are a case study in the evolutionary power of sexual selection. Their fantastic plumes and bizarre courtship displays are a result of millions of years of sexual selection at work in an environment with plentiful food and no natural predators.

Natural selection is widely considered to be an integral topic in biology, but sexual selection is a facet of natural selection that is often glossed over or not mentioned at all in biology classes. This collection includes lessons, content videos, maps, student-friendly encyclopedic entries, and a robust interactive to help you and your students explore all of the science behind the birds-of-paradise.
Interactive

Use this interactive website to immerse yourself in the world of the birds-of-paradise. Learn about evolution, adaptation, and the science behind the birds' use of color, sound, and dance. Explore high-definition videos of the birds in action, see jaw-dropping photographs, and find behind-the-scenes footage of this 8-year expedition.
In Partnership With

Museum Events

This exhibition takes you and your students on an expedition to the New Guinea rainforest to witness birds-of-paradise. Click here to download an educator's guide that includes activities for students in Grades 4-8 to do before, during, and after the exhibit.
National Geographic Magazine