Image courtesy National Geographic Channel

With the explosion of infographics and big data, maps can tell us all kinds of things about the human experience. National Geographic Channel's series The Big Picture is about finding the unexpected—and sometimes surprising—realities in both the world at large and our own backyard, revealed by crunching the numbers and finding new ways to visualize data.
Use the map tours, interactives, reference content, and activities in this collection to delve deeper into the show's themes.
More Resources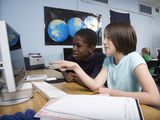 Find all of our media-rich educational resources created to support National Geographic television shows, films, magazine articles, and exploration.

Explore your world with map themes, data, and tools for customizing your map. Create maps and share them. This easy-to-use tool is great for getting started with interactive mapping and GIS and is now optimized for tablets.