Amazonia
The Human Impact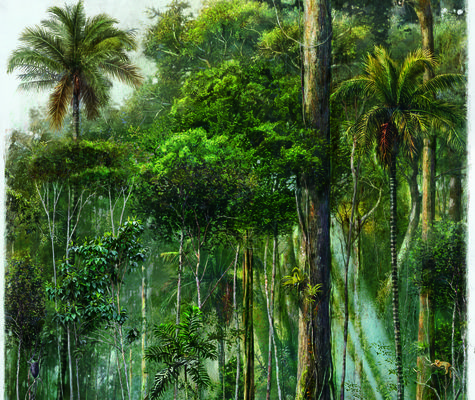 Illustration by Fernando Gomez-Baptista
Known for its lush forestry, exotic animals, and indigenous cultures, the Amazon rain forest remains a richly interdependent hub of biodiversity. Today, the Amazon faces a myriad of challenges presented by the increasing anthropogenic demand for its many natural resources. The various map supplements highlight this intricate relationship between humans and the natural environment of the Amazon rain forest, and encourage decision-making practices rooted in conservation efforts.
Together, this collection of activities, case studies, and interactive maps provides students with a holistic picture of the current state of the Amazon rain forest, and raises awareness about the short- and long-term impacts of human activity on it's biodiversity. The National Geographic Society supports education as a vital component in conservation. By engaging with these resources, students will acquire integrated and innovative skills to become capable decision-makers, able to identify alternative solutions and weigh tradeoffs to make well-reasoned decisions.
Profiles of Amazon Experts

National Geographic sits down with conservation biologist Juliana Machado Ferreira.

National Geographic catches up with biodiversity expert and explorer Dr. Thomas Lovejoy.
Maps

This National Geographic Magazine infrographic depicts the three main types of rain forest ecosystems that can be found in Amazonia.

Use MapMaker Interactive to explore the biodiversity of the Amazon rain forest with your students.
Explore the Amazon

(Case Study) Explore the conflict and stakeholders surrounding the proposed Pucallpa-Cruzerio do Sul road, which would connect interior communities of the Brazilian Amazon with export markets in Peru's urban centers, but could lead to further deforestation or displacement of local indigenous peoples.

(Article) Minga Peru, an NGO and National Geographic Grantee, serves the remote, indigenous populations living in the Loreto region of Peru's Amazon River basin with a radio program Bienvenida Salud and leadership training opportunities.

(Video) The Amazon rain forest faces destruction as society expands and progresses, Dr. Antonia Nombre and Gisele Bundchen discuss the impacts of deforestation in Brazil.