Even before the space age launched on October 4, 1957, when the Union of Soviet Socialist Republics (U.S.S.R.) orbited Sputnik, the first artificial satellite to orbit Earth, women have worked on the United States' space effort, often as integral members behind the scenes. In the years following the formation of the National Aeronautics and Space Administration (NASA) in 1958, however, women were excluded from the astronaut corps and other highly visible key positions.

During the early days of the space program, women served as "human computers." The term "computer" referred to a job title for someone who performed highly complex mathematical calculations, not the machines that did them. These were people who processed data for aviation experiments and, eventually, spaceflights, and they carried out these calculations completely by hand. Located at the Langley Research Center in Hampton, Virginia, all of NASA's human computers were women, and many of them were African American.

The African-American women computers played a vital role in advancing NASA projects, a story popularized by the movie Hidden Figures, based on the book of the same name by Margot Lee Shetterly. Mary Jackson, Katherine Johnson, and Dorothy Vaughan were especially prominent computers. Their work helped one of the first American astronauts, John Glenn, orbit Earth in 1962 and ensured the safety of the mission.

Once NASA acquired electronic computers from IBM, computer programming became women's work. The men distrusted computers and believed their own human calculations were superior, which ended up giving women early experience in the new skill of computer programming.

The first human being in space was a man, the Soviet cosmonaut Yuri Gagarin, who made one orbit around Earth on April 12, 1961, on a flight that lasted 108 minutes. A little more than three weeks later, NASA launched its first astronaut, a man named Alan Shepard, on a suborbital spaceflight. Shepard's suborbital flight lasted just over 15 minutes. Three weeks later, on May 25, President John F. Kennedy challenged the United States to an ambitious goal of landing "a man" on the Moon with the following declaration: "I believe that this nation should commit itself to achieving the goal, before the decade is out, of landing a man on the moon and returning him safely to Earth."

During the early 1960s, while NASA was training and flying the seven astronaut men of Project Mercury, 13 American women, the First Lady Astronaut Trainees or the Mercury 13, were also going through rigorous astronaut training. However, because Congress decided that it was more appropriate for NASA to stick to their men's-only program, the women were not officially part of NASA and they would never be afforded the opportunity to fly in space.

In 1963, the Soviet Union again pulled ahead of NASA by making the extraordinary move of sending the first woman into space. This was Valentina Tereshkova who orbited Earth on the Soviet Vostok 6 mission in 1963. It was not until 20 years later that NASA sent the first American woman into space. This was Sally Ride, who flew into space on the space Shuttle Challenger on June 18, 1983. This was a year after the U.S.S.R. had sent a second female cosmonaut into space, Svetlana Savitskaya. Later, in 1999, NASA astronaut Eileen Collins became the first woman to command a space shuttle mission. Since Sally Ride's first mission, at least 50 women have flown on NASA space missions as of 2018.

In September of 2018, NASA named Holly Ridings as its first female flight director in mission control. Currently, NASA is working actively to break down the barriers for women to work within the agency in science and engineering.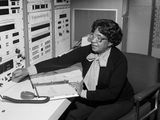 artificial satellite
object launched into orbit.
astronaut
person who takes part in space flights.
cosmonaut
Russian or Soviet astronaut.
orbit
path of one object around a more massive object.
program
set of coded instructions for the automatic performance of a task provided to a robot or computer.
Sputnik
(1957) first artifical satellite, launched by the Soviet Union, from Earth.
suborbital
flight that has not reached the altitude or velocity to achieve orbit.