On February 9, 2021, the United Arab Emirates (UAE) placed a probe around Mars on the back of a Japanese-made rocket. The Middle East nation became only the fifth nation (and first Arab one) to successfully circle a satellite around the red planet. The effort was led by Sarah Al-Amiri, chair of the UAE Space Agency and the Emirati minister of state for advanced sciences. Al-Amiri's achievement is a huge step for women of Arab descent, and women period. But she is not alone.

Women make up 80 percent of the Hope Probe mission's scientists. Women in many Middle Eastern and North African nations graduate with science, technology, engineering, and math (STEM) university degrees at much higher rates than their American and European counterparts. On its face, this may appear counterintuitive. The region is often perceived as a place where women's rights are restricted when compared to much of the rest of the world. Some of this bears out with analysis with many of these nations ranking near the bottom of the 2019 Women, Peace, and Security Index. But this doesn't tell the whole story.

Women in Middle Eastern and North African nations are not all burdened or exploited by men, just like some women in the global north are not. Their stories too vary. In the June 2020 issue of Nature Middle East, Mai Elshehaly, a lecturer in computer science at the University of Bradford, United Kingdom, mentions people who looked like her being used as an example of oppression. The woman, who hails from Egypt, then mentions how some of her countrywomen "marched in the streets of Cairo to demand their right to vote at the same time Martin Luther King Jr. was leading the civil rights movement in America. I wished they were informed about the millions of brilliant Arab women fighting against prejudice and stereotyping at home and around the world. This is why we can't just stop at saying that the representation of women in STEM matters, but we must explain that it matters in different ways to the diverse communities in STEM."

At the university level, women in North African and Middle Eastern nations comprise nearly half, and sometimes more, of STEM students. Eleven of the 18 Arab states have a majority of female science graduates. This regional trend toward less of a male-female participation gap also holds true for especially troublesome STEM disciplines like engineering and computer science. Women in the Middle East and North Africa graduate with engineering degrees at much higher rates than more technologically developed nations, like the United States, the United Kingdom, and Japan. This is especially pronounced in the Gulf States, where women comprise about 60 percent of engineering students.

National wealth, or lack thereof, can't explain these trends. Both high-income and less wealthy nations in the Middle East and North Africa have relatively large numbers of women studying STEM.

This is not to say that North Africa and the Middle East have created gender parity in STEM. Generally, women in the region earn health degrees at lower rates when compared to other regions. Women in the Middle East and North Africa have the lowest rate of workforce participation for women in the world. This may be due to cultural norms, which limit interactions between men and women. Regardless of the reason, women's low work force participation includes those working in STEM fields.

There is at least one theory as to why women in these countries with less gender equity show better gender parity in STEM degrees. In these places, there is no deep-seated belief that boys are innately better at math and science than girls. This enables girls and women to enter STEM without the social pressure and self-doubt often seen in other places. The second being that there are more career choices and support in nations with better legal protections and sociopolitical parity for women. However, so far this has not yet translated to employment outcomes.

"Many years ago while attending a professional development seminar, I discovered that I was ill-equipped to explain why I strongly felt that women in Egypt did not have equal career opportunities despite being informed that the percentage of women enrolled in and graduating with degrees in STEM fields in the Arab region is relatively high," Elshehaly said.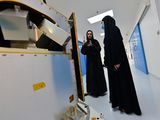 analysis
process of studying a problem or situation, identifying its characteristics and how they are related.
Arab
people and culture native to the Arabian Peninsula, North Africa, and Western Asia.
burden
load or weight to be carried.
counterintuitive
against what someone would expect.
counterpart
someone having the same function or characteristics as someone else.
developed country
a nation that has high levels of economic activity, health care, and education.
equity
fairness or impartiality.
exploit
to use or take advantage of for profit.
gender
physical, cultural, and social aspects of sexual identity.
minister
the leader of an area of government. In the U.S., ministers are called secretaries.
oppress
to unjustly discriminate against, torment, or persecute.
perceive
to understand, especially by viewing.
prejudice
unfair feeling for or against someone or something without basis in reason.
probe
spacecraft designed to study part of the solar system and send information back to Earth.
satellite
object that orbits around something else. Satellites can be natural, like moons, or artificial.
stereotype
a general characteristic associated with a group of people.
work force
number of people who are employed or available for employment.