Chesapeake Bay is a long body of water in the U.S. states of Maryland and Virginia. It connects directly to the Atlantic Ocean.
Tangier is a small island in the middle of Chesapeake Bay. Native Americans lived there for centuries. Then, Europeans arrived. English soldier and explorer John Smith sailed there in 1608. European settlers moved there over the next several decades.
Tangier is just 19 kilometers (12 miles) away from the shore of Virginia, but the culture there is a bit different.
Today, more than 500 people live on the island. They have kept much of their culture. The most obvious example is how they talk.
Outsiders Find It Strange
Tangier people pronounce many common English words in an unusual way. They use words that only other islanders understand. They also have an odd way of communicating. They call this "talking backwards."
David L. Shores is an expert on languages. He was born on the island. Shores has studied Tangier people's way of speaking. Shores says he has figured out why outsiders find it odd.
Shores says islanders pronounce their vowels louder and longer than other Americans. This makes common words sound different. For example, take the words "pull" and "Paul." Islanders would pronounce those the same way, Shores said.
Bruce Gordy grew up on Tangier. For years, he taught at the island's only school. Gordy has put together a list of 350 words and expressions that are used only by islanders. One example is the word "wudget," which means a "big wad of money." Another is the expression "in the sweet peas." Saying someone is in the sweet peas means they are asleep.
"On the mainland, if somebody has a bicycle and they get a flat tire, then they have a flat tire," Gordy said. On Tangier Island, "if somebody has a flat tire, they don't say that. They say 'my bike's bust.' It's just an expression we use here."
Islanders Say the Opposite
A few unusual words come from older forms of English. For example, Tangier people call asparagus "spar grass." The name comes from "sparrow grass." This was a term that English colonists used in North America a few hundred years ago.
Gordy doesn't think these words are what puzzle outsiders the most. "It's the fact that we are 'talking backwards' a lot." Islanders often say the opposite of what they really mean.
For example, Gordy said, if you want to tell people that someone is stupid, you don't actually say that. Instead, you say the person is smart. You say it in a way that shows you really mean the opposite. The sound of your voice shows you are "talking backward."
Island Off by Itself
Gordy and Shores have the same explanation for the islanders' way of speaking. They both believe it came out of the island's isolation from the mainland. In many ways, the island has been a separate world. Because of that, it developed its own way of speaking English. Islanders also kept some old forms of speech that disappeared in the rest of Virginia, Shores said.
For hundreds of years, many islanders have been able to get food from crabbing and fishing. Their life is based on the waters around the island. Things have been changing, though. The bay's crabs and oysters have been disappearing. Because of this, more and more islanders have had to look for new kinds of work. Many are now working on tugboats. Others have found work on the mainland.
Gordy is worried about these changes. He fears the islanders' traditional way of life might end. That could cause their unusual speech to die out.
Tangier's culture is "all tied to the water" and to the island, Gordy said. "That was what our whole life was. Of course the sons and daughters went with their dad out crabbing. You don't go with your dad on the tugboat. That's not going to preserve Tangier culture."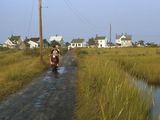 asparagus
plant with long shoots eaten as a vegetable.
Chesapeake Bay
large, shallow estuary of the Susquehanna and other rivers that flow through the U.S. states of Maryland, Virginia, West Virginia, Delaware, Pennsylvania, and New York and the capital of Washington, D.C., before emptying in the Atlantic Ocean.
Civil War
(1860-1865) American conflict between the Union (north) and Confederacy (south).
Confederacy
Confederate States of America, states which broke from the United States to form a new government during the Civil War.
consumption
process of using goods and services.
Cornish
people and culture native to Cornwall, England.
crab
type of marine animal (crustacean) with a flat body, hard shell, and pincers.
learned behavior of people, including their languages, belief systems, social structures, institutions, and material goods.
derive
to come from a specific source or origin.
economy
system of production, distribution, and consumption of goods and services.
Elizabethan
having to do with the reign or time period of Elizabeth I of England (1558-1603).
Elizabeth I
(1533-1603) queen of England. Also called the Virgin Queen and Good Queen Bess.
fish
to catch or harvest fish.
heritage
cultural or family background.
idiomatic
specific to a particular language or dialect.
isolation
state of being alone or separated from a community.
linguist
person who studies language.
Methodist
member of a Protestant religion.
obscure
to darken or partially block.
tendency
habit or predictable way of behaving.
transportation
movement of people or goods from one place to another.
tugboat
small boat with a strong engine used to push or pull much larger ships.
Ulster Scot
people and culture descended from colonists from southern Scotland and northern England who settled in Ireland in the 17th century.
vowel
letter that can be pronounced in long (the letter's name) or short form. There are five vowels in English: A, E, I, O, U
Welsh
people and culture native to Wales.