Originally published May 19, 2019

Kathmandu, Nepal—On Monday, Christopher Kulish, a 62-year-old attorney from Boulder, Colorado, United States, died at Camp 4, located on the South Col at 7,924.8 meters (26,000 feet), after returning from the summit of Mount Everest. According to Kulish's brother, an initial assessment indicates Kulish died of cardiac arrest, not altitude sickness.

His death brings the number of fatalities on Mount Everest this season to 11 and raises the full death toll on Himalayan 8,000-meter (26,246.7-foot) peaks this spring to 21. With several more days remaining in the climbing season—which effectively ends when the monsoon arrives sometime the first week in June—it is possible the number will continue to rise.

A photo captured last week by Nepali mountaineer Nirmal Purja Magar showed a near continuous line of hundreds of climbers bottlenecked on the summit ridge of Everest—all trying to take advantage of a narrow window of good weather. The image went viral, sparking an instant debate about whether the mountain is too crowded and forcing a difficult, if familiar, discussion about whether the high number of casualties was due to too many climbers.

Most of those guides and clients depicted in the photo have since left base camp and are now beginning to share their stories. There's no consensus.

On one end of the spectrum, Elia Saikaly, a Canadian cinematographer, posted the following report on Instagram: "I cannot believe what I saw up there. Death. Carnage. Chaos. Lineups. Dead bodies on the route and in tents at camp four. People who I tried to turn back who ended up dying. People being dragged down. Walking over bodies. Everything you read in the sensational headlines all played out on our summit night." That caption has since been deleted.

Others strike a more mundane note: "It was like standing in line on a busy weekend at a ski resort," says Dirk Collins, a Wyoming, United States-based filmmaker working with the National Geographic Society. "Frustrating, but mostly boring—not what you expect—to have to stand in line on Everest." The National Geographic Society-led team had planned to summit but turned back due to the crowds.

Yet some veteran guides are pushing back against the narrative that the lines are killing people, saying the line is a symptom of bigger problems and not the direct cause of most of the deaths.

"That storyline is just false," says American Ben Jones, a guide for Alpine Ascents International. "None of the [fatalities] I know of died because they were waiting in line ... These are mostly decision-making issues."

What It's like To Wait in Line at 8,500 Meters

The problem was not limited to one day. Jones helped lead his commercial team to the summit on May 23rd, the day after the infamous photo was taken. "There were two people holding up a line of 50. That was the only problem we had," he says. "They would not move over and let people pass." Jones estimates it cost the bulk of those waiting about two hours.

"It was just standing still waiting for two people to move over, and they wouldn't," Jones continues. In a recent post, longtime Everest blogger Alan Arnette calculated that five of the 11 deaths this season on Everest may have been related to the crowds.

"If you keep going to the summit when you don't have enough oxygen to get back down, that's poor decision making," said Jones's fellow Alpine Ascents guide, Eric Murphy. "When we're standing there waiting for these people to go, we lower the oxygen flow down a bit to make sure we're not going to run out," Murphy said, describing how his team conserved the bottled oxygen needed for the highest parts of the mountain.

According to Murphy, the slow-moving lines are a leadership issue as much as anything else. "If [the slow climbers] have a Sherpa with them, really that Sherpa should say let's step aside, let's rest a little bit, and let's let people pass," he said, adding, "It puts too much responsibility on a lot of the Sherpa."

Murphy also pointed to nuances in climbing techniques that slowed down traffic flow. "Some guys clip into every rope with an ascender, even on flat terrain," he said. An ascender clips onto a fixed rope and prevents a climber from sliding down—when the terrain is flat a regular carabiner is faster and relatively safe as well. The process of attaching and unattaching an ascender might add 10 or 15 seconds for each transition. One Everest climber estimates there are about 500-600 transitions, which equates to roughly two hours or more, some of which could be saved with the simpler process. "That is way slower than just clipping into the rope with a carabiner."
"The crowds is a headline ... It's the lack of experience among people on the mountain," says Mark Fisher, an experienced guide who was also a member of the National Geography Society-led science team. "People didn't seem to know things like taking care of themselves, being efficient with climbing skills, and being properly prepared for the environment."

Another issue that impacted the number of climbers high on the mountain relates to the weather forecasts. Everest typically has 10-15 days of relatively calm weather in May for climbers to attempt a summit climb. This season, the remnants of Cyclone Fani struck the Himalaya the first week of May, delaying for a few days the climbing Sherpa team that sets up a series of fixed ropes used to reach the summit. After the route was opened to the summit on May 14th, the weather remained unpredictable, with blustery winds averaging between 64.4-96.6 kilometers (40-60 miles) per hour (safe speeds are generally less than 48.3 kilometers [30 miles] per hour) and below-average temperatures threatening many days in the usual summit window. Then around May 19th, the weather models completely changed, and one of the best looking days in the predictions, May 24th, suddenly changed into the worst. With sustained winds over 96.6 kilometers (60 miles) per hour predicted, many teams moved their summit attempts up to May 22nd or 23rd.

Avoiding Rush Hour the New Normal

Official final numbers for the 2019 Everest season have yet to come in, but it seems likely that this year will be a record season in terms of summiteers. The Nepalese government issued 381 permits this season according to latest reports—a record—with approximately another 140 permitted climbers attempting the peak from Tibet. (Professional climbing Sherpas working on the mountain are not included in this tally.) Alan Arnette is reporting an unofficial number of more than 700 summiteers this year, which includes climbing Sherpas; the record, set in 2018, stands at 802.

China minimizes the problem of crowding on their side of Everest by issuing far fewer permits, and many outfitters have moved their operations to the Chinese side of the mountain.

The issue isn't just the sheer numbers, but the quality of some guide services serving the influx of climbers on the Nepali side. "The biggest problem, I think, on Everest in general—and people aren't going to like to hear this—it's the local companies that are taking inexperienced people, incompetent people, and pulling them up mountain," Jones says.

Fifteen of the 21 climbers who died on 8,000-meter (26,246.7-feet) peaks this year were clients of Nepali-organized expeditions versus international guide services working in conjunction with a local outfitter.

"We strategize constantly about how to avoid the crowds," Jones explains. "Leaving camp a few hours earlier or later can change your day completely. It's just another layer to decision-making on Everest ... The Western guide services communicate with each other, the other operators not so much."

It is a sensitive issue because the lucrative climbing industry in Nepal has long been dominated by Western guides and only in the past decade or so have Nepali-owned companies begun to make significant inroads, largely by charging far less than their foreign counterparts and catering to the lower end of the growing market of clients wanting to be guided up the world's tallest mountain.

If the crowds aren't directly culpable for killing people, they are unquestionably responsible for increasing the risks by necessitating longer summit days—indelibly changing the dynamic of climbing Everest.

One of the few elite climbers on the Nepali side of Everest this season was German alpinist David Goettler, who attempted to climb the mountain without supplemental oxygen, a style favored by purists but one that increases the possibility of frostbite and altitude sickness and demands perfect conditions. Goettler was ultimately forced to turn around about 200 meters (656 feet) from the top. He was unwilling to accept the risks of continuing on because of the crowds.

"Even if I say, I want to go down now, suddenly I have to stand in line with all the other people going down, and I can't move fast enough to stay warm," Goettler explains. "It was a risk which I was not willing to take, which could very well lead to catastrophe."

Goettler continues: "[The experience] was what I expected … I think it's dishonest to go to Everest and complain about the crowds and skills. Of course, it reads nice in the media, but it's the same I see on Mount Blanc and the Matterhorn. We professionals tell the world about how wonderful it is to explore these places. Of course, crowds will come."

Both Ben Jones and Eric Murphy lament the negative headlines Everest continues to generate, noting they'd climbed with some of their clients for over a decade. "When you build the relationships, the comradery [we have] to reach that goal is something special," Murphy reflects.

"When we go back home friends and family are asking what goes on up there, because all they hear are all these negative articles that come out every single year ... and in my mind, it's just not true," Jones says. "In mountaineering, it's never one decision that causes a negative outcome, it's a series of bad decisions."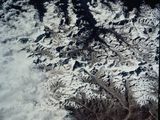 altitude sickness
illness caused by reduced oxygen levels at high elevations.
forecast
to predict, especially the weather.
Himalaya Mountains
mountain range between India and Nepal.
mountaineer
someone who climbs mountains.
Mount Everest
highest spot on Earth, approximately 8,850 meters (29,035 feet). Mount Everest is part of the Himalaya and straddles the border of Nepal and China.
oxygen
chemical element with the symbol O, whose gas form is 21% of the Earth's atmosphere.
Sherpa
people and culture native to the Himalayan region of Nepal and China. Sherpa often serve as mountaineer guides and porters on mountain-climbing expeditions.
summit
highest point of a mountain.