Dr. Eric Cline, professor at George Washington University in Washington, D.C., and co-director of The Megiddo Expedition and the Tel Kabri Project
In 2005, Cline and his team came back to Kabri with one primary goal.
The archaeological crew detected what appeared to be walls by using remote-sensing equipment.
"They [the walls] were exactly where the remote sensing said they would be, but the remote sensing had not told us how far down they would be," Cline says.
When Cline and his team looked again at the 2012 remote sensing scans during the excavation season in 2013, they suddenly realized that it had worked.
Archaeologists at Kabri use pen and paper to record their finds.
The archaeologist also uses popular presentation software to prepare information for public appearances.
"Whenever I give a lecture on Kabri or Megiddo, I'm using PowerPoint, because you can't talk about a site these days without an image," Cline says. "In fact, that is what I do in the classroom too. Every idea, every concept, every thought has an image associated with it."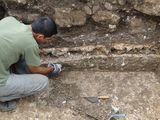 academic
person or thing having to do with school, particularly college or university education.
accessible
relatively easy to approach, use, or obtain.
approximate
generally or near an exact figure.
archaeological site
place where evidence of the past is being studied by scientists.
archaeologist
person who studies artifacts and lifestyles of ancient cultures.
material remains of a culture, such as tools, clothing, or food.
blog
(web log) website that contains online personal reflections, comments, and often hyperlinks provided by the writer.
Bronze Age
time period between the Stone Age and the Iron Age. The Bronze Age lasted between 3000 BCE and 500 BCE.
Canaan
loosely affiliated tribes, kingdoms, or nations in the eastern Mediterranean (the Levant), existing in some form from the Stone Age through the Iron Age.
carbon
chemical element with the symbol C, which forms the basis of all known life.
carbon-14
type of carbon with two extra neutrons, useful in dating geological and archaeological material. Also called radiocarbon.
database
a collection of information for analysis and interpretation.
digital
having to do with numbers (or digits), often in a format used by computers.
fiber
long, thin, threadlike material produced by plants that aids digestive motion when consumed.
generator
machine that converts one type of energy to another, such as mechanical energy to electricity.
any system for capturing, storing, checking, and displaying data related to positions on the Earth's surface.
historian
person who studies events and ideas of the past.
Internet
vast, worldwide system of linked computers and computer networks.
Internet cloud
cyberspace, or the network of connected facilities which store information from millions of computers connected to the internet.
interpret
to explain or understand the meaning of something.
laser
(acronym for light amplification by stimulated emission of radiation) an instrument that emits a thin beam of light that does not fade over long distances.
LIDAR
(Light Detection and Ranging) method of detecting distant objects and determining their position, velocity, volume, or other characteristic by analysis of pulsed laser light reflected from their surfaces. Also called LADAR.
organic
composed of living or once-living material.
palace
large home or mansion, often the home of a leader or dignitary.
recruit
to work to supply a group with new members.
any area on Earth with one or more common characteristics. Regions are the basic units of geography.
remote sensing
methods of information-gathering about the Earth's surface from a distance.
technology
the science of using tools and complex machines to make human life easier or more profitable.