The Dyerville Giant was an enormous tree. In 1991, it fell to earth.
The redwood tree was 362 feet tall. It was taller than the Statue of Liberty. The tree stood in Humboldt Redwoods State Park. This park is in California. The giant tree made a great crash. It shook the earth.
Dave Stockton is an expert on the park. He runs a nature group. Stockton and others give tours of the area. He remembered visiting the tree after it fell.
Stockton showed me the tree while walking around the park. It is not the only giant tree there. Others are huge, too. Redwoods are the tallest trees in the world. Some are more than 350 feet tall.
Rockefeller Forest
Humboldt Redwoods State Park is a large area. It covers many miles. Inside the park is Rockefeller Forest. It has the finest redwoods in the world. The forest has trees of all ages. Some are very young. They are called "dog hairs." These young trees cover the ground in patches. Other trees are much older. Some are now rotting stumps. They stick out like giant teeth.
Some of the trees are covered with spider webs. They almost look like beards. The redwoods here are very old. Some are almost 2,000 years old.
Redwoods are special. They live so long because they have high amounts of tannin. It keeps insects away. The trees also have low amounts of resin. That helps them survive fires.
Threats to Redwoods
The redwoods face several dangers. Stockton thinks the biggest natural danger is wind. The trees can grow very tall. However, their roots are shallow. They do not grow far into the ground. That means the trees are easily shaken. Too much wind could knock them over.
Humans have long used the wood of redwood trees. Native Americans built canoes and sweathouses out of the tree trunks. They used the roots to make baskets. In the 1850s, loggers harvested redwoods for buildings and railroad ties.
Many animals live in the forests. Bats live within hollow trunks. Birds nest in the branches. Insects live on fallen redwoods. The trees also provide dens. Skunks and foxes live here.
The trail lead through the forest. It brought us to a place called Cathedral Grove. The trees there are huge. They are the largest in the forest. Stockton loves being there. "It's so quiet," he said.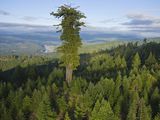 antler
horn-like bony outgrowth on deer and related animals.
bark
typically hard, outer covering of a tree.
canoe
small, open boat with pointed ends.
coast redwood
tallest tree species on Earth.
dog hair
group of small, young redwood trees.
Dyerville Giant
coast redwood tree in the U.S. state of California which fell in 1991.
earthquake
the sudden shaking of Earth's crust caused by the release of energy along fault lines or from volcanic activity.
filter
to remove particles from a substance by passing the substance through a screen or other material that catches larger particles and lets the rest of the substance pass through.
fox
type of mammal related to a dog with a thin muzzle and thick tail.
giant sequoia
largest species of tree on Earth.
goose pen
large hollow area in the base of a tree.
imposing
large or very impressive.
impressive
admirable or very memorable.
insect
type of animal that breathes air and has a body divided into three segments, with six legs and usually wings.
logging
industry engaged in cutting down trees and moving the wood to sawmills.
majestic
very impressive and formal.
preserve
to maintain and keep safe from damage.
railroad tie
flat piece of wood that supports the metal track of a railroad.
resin
clear, sticky substance produced by some plants.
root
part of a plant that secures it in the soil, obtains water and nutrients, and often stores food made by leaves.
seabird
bird native to an aquatic environment.
seismograph
instrument that detects and records vibrations caused by seismic shock waves.
skunk
mammal native to North America known for emitting a foul odor when attacked or threatened.
soil
top layer of the Earth's surface where plants can grow.
species
group of similar organisms that can reproduce with each other.
spider web
structure made from thin, sticky material spun by spiders and originating from their bodies.
Statue of Liberty
(1886) large sculpture in New York Harbor of a woman holding a torch, designed by French sculptor F.A. Bartholdi.
sweathouse
structure used by some Native American cultures wherein water is poured over heated stones, causing people in the structure to sweat. Also called a sweat lodge.
tannin
chemical substance found in plants.
thrive
to develop and be successful.
movement of air (from a high pressure zone to a low pressure zone) caused by the uneven heating of the Earth by the sun.