When it comes to changing the world, text messaging might not be the first thing to come to mind.
But a free, downloadable application known as FrontlineSMS is allowing nonprofit organizations in remote areas of the world to harness mobile technology to affect the world in a positive way. Ken Banks developed the software, now used by people from Africa to Asia, at a kitchen table in a Finnish forest. Banks is the founder of kiwanja.net, an
In 2004 and 2005, Banks, a National Geographic Emerging Explorer, was trying to find a way for officials in South Africa's Kruger National Park to update local communities on changes or developments in the park. Banks discovered that text messaging is an excellent way for organizations in underdeveloped countries to communicate where there is little or no internet access. Most people in communities surrounding Kruger National Park had cell phones, even though internet access was unreliable.
FrontlineSMS is based around the use of sending out messages to groups of people via phone signals.
"With a piece of software that you just install on a low-cost laptop computer, you plug in a cheap mobile phone," Banks says from his home in Cambridge, England. "There's no need for the internet. You can take it anywhere. Even if you have just one single sliver or bar of mobile phone signal, you can send two-way messages to communities."
Following his success in Kruger, Banks moved with his girlfriend, now his wife, to Finland for the summer. "She actually spent the summer working in a sausage factory, and I sat at her parent's kitchen table at home in the forest and just started writing the software," he says. "It took about five weeks."
Banks says he faced many challenges as he designed the software for FrontlineSMS' user interface—the part of the software that people interact with.
"I got stuck probably quite a few times, but what generally happens when you do programming is that you get stuck on something and you go for a walk or you wake up at 5 a.m. and the answer comes to you when you are not expecting it," Banks says. "Often, you need to switch off to get the response."
Uses Are Up to the Users
Though FrontlineSMS was launched in October 2005, it was two years before it caught on with nonprofits around the world. The software gained widespread exposure when a Nigerian organization called Humanitarian Emancipation Lead Project (HELP) used FrontlineSMS to assist Nigerians in reporting on their 2007 national elections.
"It is believed to be the first time that Nigerian citizens have helped monitor their own elections using mobile phone technology in Africa," Banks says.
Since then, FrontlineSMS has been downloaded by more than 8,000 organizations.
In Haiti and Vietnam, the software has been used to report incidents of human trafficking, the illegal trade of people for forced labor or sexual exploitation. "I think that's quite cool because human trafficking is just so nasty, and if a text message can help stop it then that's a very nice use of 160 characters of information," Banks says.
In the United States, FrontlineSMS was used by an organization in Oklahoma to assist victims of domestic violence. Banks says that within three months of employing FrontlineSMS, the agency received 4,000 text messages from women who were being abused or were fearful that they were going to be abused.
"What happened was that in those three months, three men were jailed and convicted for a total of 120 years based on the text message evidence that came from the women they were abusing," he says.
In Afghanistan, FrontlineSMS is being used to keep the staff of nonprofits safe from the Taliban. "People are running around in these dangerous places trying to make the world a better place, and it's just nice to think that the software can be that useful and potentially save lives," Banks says.
Banks has been impressed by some innovative uses of FrontlineSMS.
"In terms of surprising me the most, it was Malawi, where St. Gabriel's Hospital [in Namitete] was using the software to run a rural health care network for a quarter of a million people," he says. "They figured out how to transfer money to the phones of health care workers through FrontlineSMS. I've never thought about doing that, let alone even trying it."
Banks says that kiwanja.net will be launching a major new project in 2011, though he can't share any details about it at this time.
"If you were to summarize what we do, it's really all about how you can help educate and improve the world," he says, "using mobile technology."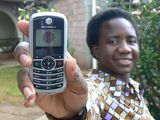 Silverbacker
In addition to FrontlineSMS, kiwanja.net has developed a free mobile phone game, Silverback, about mountain gorillas. Basically, you take on the life of a baby mountain gorilla growing up in the forest, Banks says. You have to watch out for poachers and snares and fight off rival silverbacks and find a mate and start a family. Download the game here.
cell phone
device that uses radio signals to transmit and receive voice and other data.
communicate
to exchange knowledge, thoughts, or feelings.
convict
to find someone guilty of an illegal act.
domestic violence
abuse directed toward someone living in the same home or household.
election
selection of people to public office by vote.
Emerging Explorer
an adventurer, scientist, innovator, or storyteller recognized by National Geographic for their visionary work while still early in their careers.
exploit
to use or take advantage of for profit.
forest
ecosystem filled with trees and underbrush.
FrontlineSMS
text messaging system that allows people to communicate with large groups.
harness
to control or guide for a specific purpose.
health care
system for addressing the physical health of a population.
human trafficking
trade of people for forced labor or sexual exploitation.
innovative
new, advanced, or original.
Internet
vast, worldwide system of linked computers and computer networks.
Ken Banks
National Geographic Emerging Explorer studying the uses of mobile technology among nonprofit organizations throughout the world.
Kruger National Park
(21,700 square kilometers/8,400 square miles) wildlife sanctuary in South Africa that is the world's largest game reserve.
laptop
computer that is small and light enough to rest on a user's lap.
mobile technology
tools that are not dependent on a fixed location or set of machinery.
monitor
to observe and record behavior or data.
nonprofit organization
business that uses surplus funds to pursue its goals, not to make money.
rural
having to do with country life, or areas with few residents.
software
electronic programs of code that tell computers what to do.
Taliban
radical Islamic movement that led Afghanistan from 1996-2001.
technology
the science of using tools and complex machines to make human life easier or more profitable.
text messaging
short (usually 160 characters) communication carried over mobile phones or other devices. Messages are called text, SMS, or TMS.
trade
buying, selling, or exchanging of goods and services.
underdeveloped country
country that has fallen behind on goals of industrialization, infrastructure, and income.
user interface
part of a computer program that can be seen, heard, and interacted with by a user.
Articles & Profiles
Audio & Video
Websites