This story is taken from Explorer magazine, a nonfiction reading resource for learners in second to fifth grade, published by National Geographic Society. Have your students read the story and then test their comprehension with the reading and/or content activities included in this article.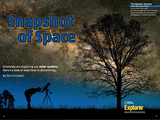 asteroid
irregularly shaped planetary body, ranging from 6 meters (20 feet) to 933 kilometers (580 miles) in diameter, orbiting the sun between Mars and Jupiter.
natural satellite of a planet.
large, spherical celestial body that regularly rotates around a star.
solar system
the sun and the planets, asteroids, comets, and other bodies that orbit around it.