To sense its environment, Robonaut 2's head is loaded with four cameras, two of which provide "stereo vision" to sense the depth of objects in its environment. Stereo vision compares image data from two vantage points—just like human eyes. The combined data allows us—and Robonaut 2—to see in 3-D. Robonaut 2's two extra cameras can be used if the other ones break down.
In September 2014, NASA sent a set of legs to the ISS so that Robonaut 2 could move around the space station more easily. Astronauts removed the support post from the torso and attached the legs instead.
Since there is no walking in zero gravity, Robonaut 2's legs function more like an extra set of very long arms with devices on the ends (end-effectors) that allow the robot to attach to different parts of the space station. Robonaut 2 can even see through cameras on its feet!
Robonaut 2 is still being tested on simple tasks at the space station and is just getting used to its new pair of legs. Once it's mastered these, Robonaut 2 will be used for simple maintenance tasks on the ISS (like cleaning railings) until it's ready for its first space walk.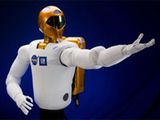 agile
active and quick to respond.
astronaut
person who takes part in space flights.
computer
device designed to access data, perform prescribed tasks at high speed, and display the results.
device
tool or piece of machinery.
disaster
terrible and damaging event.
engineer
person who plans the building of things, such as structures (construction engineer) or substances (chemical engineer).
gravity
physical force by which objects attract, or pull toward, each other.
health care
system for addressing the physical health of a population.
humanoid
having human characteristics or form, or resembling a human being.
infrared radiation
part of the electromagnetic spectrum with wavelengths longer than visible light but shorter than microwaves.
International Space Station (ISS)
satellite in low-Earth orbit that houses several astronauts for months at a time.
laboratory
place where scientific experiments are performed. Also called a lab.
manipulate
to manage a complex device or situation with great skill.
natural satellite of a planet.
NASA
(National Aeronautics and Space Administration) the U.S. space agency, whose mission statement is "To reach for new heights and reveal the unknown so that what we do and learn will benefit all humankind."
navigate
to plan and direct the course of a journey.
outer space
space beyond Earth's atmosphere.
large, spherical celestial body that regularly rotates around a star.
program
set of coded instructions for the automatic performance of a task provided to a robot or computer.
robot
machine that can be programmed to perform automatic, mechanical tasks.
rover
vehicle that remotely explores a region, such as the surface of a moon, planet, or other celestial body.
satellite
object that orbits around something else. Satellites can be natural, like moons, or artificial.
sensor
instrument that receives a signal and transmits data about that signal, such as data on light or heat.
spacecraft
vehicle designed for travel outside Earth's atmosphere.
space shuttle
vehicle used to transport astronauts and instruments to and from Earth.
space walk
physical activity outside a spacecraft in orbit.
syringe
small device consisting of a hollow needle and tube, used for extracting or injecting fluid into the body.
technology
the science of using tools and complex machines to make human life easier or more profitable.
torso
body, excluding head and limbs. Also called a trunk.
ultrasound
sound emitted at frequencies above what humans can hear.
venture
to take a risky or dangerous opportunity.