This story is taken from Explorer magazine, a nonfiction reading resource for learners in second to fifth grades, published by National Geographic Society. Have your learners read the story.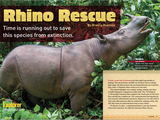 captive breeding
reproduction of rare species controlled by humans in a closed environment, such as a zoo.
management of a natural resource to prevent exploitation, destruction, or neglect.
organism threatened with extinction.
process of complete disappearance of a species from Earth.
poacher
person who hunts or fishes illegally.
reproduce
to create offspring, by sexual or asexual means.
group of similar organisms that can reproduce with each other.