Ryan is currently working for the National Geographic Channel, freediving to take video footage of great white sharks off the coast of Guadalupe Island, Mexico.

EARLY WORK

At 11 years old, Ryan became certified as a scuba diver while growing up in Richmond, Virginia. "My dad got into diving," he says. "As soon as I was old enough, I got dive lessons, and he and I traveled all over, scuba diving. By the time I was 15, I had hundreds of scuba dives, and I was already infatuated with sharks."

"I think one of the first real shark experiences I remember was when I was 14," he says. "My dad and I were in the Sea of Cortez [Mexico] in the middle of nowhere. We dropped down to this deep seamount, and the current was ripping. We grabbed on to the seamount, and this big shoal of hammerheads came by. There were more than you could count."

At 18, Ryan took a job as a scuba instructor. Three years later, he graduated from University of North Carolina at Wilmington with a bachelor of science degree in marine biology. "Pretty much everything I did from a young age was geared towards trying to make a living while being in the water," he says.

MOST EXCITING PART OF YOUR WORK

"When the equipment is working right. And the conditions are right. And the fish are there. Everything comes together."

MOST DEMANDING PART OF YOUR WORK

"I would say that the equipment is the biggest challenge. The way I started was getting easy-to-use equipment and just happening to frame it right. People started wanting more, so I had to get more technical. It's not about 'I can hold my breath for a long time.' It's about being able to use a camera."

HOW DO YOU DEFINE GEOGRAPHY?

"Being an underwater guy, when I think of a place, I think of what fish are there, what the reef structure looks like. Fiji is known for its soft corals. It's gorgeous there. Whereas Yap Island in Micronesia is all hard corals and cuttlefish and unique species. Totally different geography."

GEO-CONNECTION

Even members of the same species, like great white sharks, can behave differently depending on their geographic location.

Ryan says that the behavior of the great white sharks in the eastern Pacific, where he is currently diving, might differ from other populations.

"White sharks are worldwide in temperate waters," he says. "The work that I've done with them is unique to its location. I've worked with guys who have done most of their work in South Africa, and they tell me sharks are completely different there. I'm sure they look exactly the same, but they act differently. They eat different things."

SO, YOU WANT TO BE AN . . . UNDERWATER FILMMAKER

"The best advice I can give is take every opportunity that you can if there is education involved, even if it's not specific to what you want to do, so that you develop a broad skill set that will make you the full package," he says.

GET INVOLVED

To investigate the underwater world, Ryan suggests exploring the nearby coastline with your family or taking a dive class.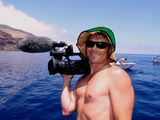 behavior
anything an organism does involving action or response to stimulation.
coastline
outer boundary of a shore.
steady, predictable flow of fluid within a larger body of that fluid.
cuttlefish
marine organism (mollusk) related to squid and octopuses.
equipment
tools and materials to perform a task or function.
freedive
to swim deep into a body of water without the use of artificial breathing devices, such as scuba.
study of places and the relationships between people and their environments.
great white shark
large shark native to temperate ocean waters.
hammerhead
shark with a large, flat, T-shaped head.
hard coral
type of coral that creates a hard shell or exoskeleton around itself.
infatuate
to cause to obsess or behave foolishly.
marine biology
study of life in the ocean.
a ridge of rocks, coral, or sand rising from the ocean floor all the way to or near the ocean's surface.
scuba
(self-contained underwater breathing apparatus) portable device for breathing underwater.
soft coral
type of coral that does not create a hard exoskeleton.
Articles & Profiles
Audio & Video