EARLY WORK
Michelle always had an interest in the natural terrain and environment around her. She remembers visiting state and national parks with her family and camping with the Girl Scouts as a child.

In high school, Michelle helped start a recycling program and an environmental awareness group, Students for a Better Earth.

In college at the University of Montana, Michelle's work with the Student Conservation Association began her career in geography and environmental science.

MOST EXCITING PART OF YOUR WORK
Conveying to students that "their actions are important, and they can make a difference."

MOST DEMANDING PART OF YOUR WORK
Classroom management—balancing the needs of students and administration with teaching science, all in one hour.

HOW DO YOU DEFINE GEOGRAPHY
"Primarily topographic features as well as cultural landmarks."

WHAT IS GEOGRAPHY
"'Geo' means earth, so I consider almost all my classes focused on geography."

GEO-CONNECTION
Michelle's classes put a special focus on meteorology and integrating political maps with topographical ones. Students follow trade winds and ocean currents and identify countries and geographic regions they impact.

Students also evaluate wetlands restoration efforts across the United States. "We looked at a wetlands restoration program in Arcata (Calif.) and another one in Michigan, and decided if either approach could work in our area."

SO, YOU WANT TO BE A . . . SCIENCE TEACHER
"Get a summer internship in the field. Spend a summer working with a geologist or an oceanographer. See what the science is like!"

GET INVOLVED
Visit your local state or national park. "Take an interpretive hike, talk to a naturalist or park ranger. Parks offer a wide variety of volunteer opportunities."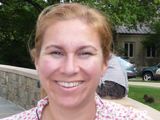 management of a natural resource to prevent exploitation, destruction, or neglect.
geology
study of the physical history of the Earth, its composition, its structure, and the processes that form and change it.
interpretation
way of understanding an event or set of facts.
study of weather and atmosphere.
naturalist
person who studies the natural history or natural development of organisms and the environment.
terrain
topographic features of an area.
topography
study of the shape of the surface features of an area.
trade wind
winds that blow toward the Equator, from northeast to southwest in the Northern Hemisphere and from southeast to northwest in the Southern Hemisphere.
water current
flowing movement of water within a larger body of water.
area of land covered by shallow water or saturated by water.