EARLY WORK

Lisa developed an interest in anthropology and archaeology from reading historical novels and fiction. "I would read voraciously anything I could get my hands on," she says. "I just remember being fascinated by humans and how we work as a society versus as individuals."

She didn't have many hands-on experiences related to her future career while growing up in Lakewood, Colorado. "We didn't have a lot of money to travel, so I traveled through books."

MOST EXCITING PART OF YOUR WORK

Lisa loves traveling and talking to other archaeologists about what they do. She gets enthusiastic about unearthing new artifacts. "I still get excited at finding stuff, whether it's a broken piece of pottery, a shirt or anything."

MOST DEMANDING PART OF YOUR WORK

"Applying every year all around for funding."

HOW DO YOU DEFINE GEOGRAPHY

"Geography is how we engage with the landscape. . . . How people use the landscape and perceive it. And interact with it. And engage with it. Use it. Abuse it. Live with it. You name it."

GEO-CONNECTION

Lisa says the Maya didn't separate their landscape from their society. She attempts to view the natural world the way the Maya did. "I see geographic features as cultural features," she says.

Over the years, Lisa has discovered—particularly through the work of cave archaeologists—that the hardest geographic features to reach often contain the greatest artifacts. "They'll [cave archaeologists] see a ledge that looks impossible to get to," she says. "They learned early on to get to it because the Maya sure as heck did."

Lisa uses modern geographic tools including GIS and GPS technology in her work, but she pores over maps to determine the patterns of Maya settlements within certain regions.

SO, YOU WANT TO BE AN ANTHROPOLOGIST OR ARCHAEOLOGIST

Lisa suggests that students should learn languages and how to use GIS technology in addition to taking anthropology and archaeology courses.

GET INVOLVED

For families interested in learning about Maya culture firsthand, Lisa suggests traveling to Belize and taking one of many tours of the country's historic sites.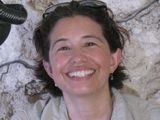 anthropologist
person who studies cultures and characteristics of communities and civilizations.
archaeologist
person who studies artifacts and lifestyles of ancient cultures.
material remains of a culture, such as tools, clothing, or food.
cave
underground chamber that opens to the surface. Cave entrances can be on land or in water.
expedition
journey with a specific purpose, such as exploration.
any system for capturing, storing, checking, and displaying data related to positions on the Earth's surface.
Global Positioning System (GPS)
system of satellites and receiving devices used to determine the location of something on Earth.
grant
money given to a person or group of people to carry out a specific project or program.
historical novel
work of fiction based on facts in history.
the geographic features of a region.
Maya
people and culture native to southeastern Mexico and Central America.
perceive
to understand, especially by viewing.
pore
to read or study very carefully.
pottery
pots, vessels, or other material made from clay or ceramic.
sacred
greatly respected aspect or material of a religion.
voracious
eating or hungering for large amounts of food.