Daniel is the chief historian at the World War II Valor in the Pacific National Monument in Honolulu, Hawaii.

"I assist visitors, researchers, and staff with any historical question or inquiry regarding the Pearl Harbor attack and the Pacific War," Daniel says of his day-to-day duties.b

The national monument includes nine historic sites, five of them in Honolulu. (The other sites are in Alaska and California.) Daniel is the chief historian for the U.S.S. Arizona Memorial and Visitors Center, the U.S.S. Utah Memorial, the U.S.S. Oklahoma Memorial, Chief Petty Officer Bungalows on Ford Island, and the mooring quays that were part of Pearl Harbor's "Battleship Row."

EARLY WORK

Daniel's grandfather worked as a foreman at the Red Hill Underground Fuel Storage Facility in Pearl Harbor when the Japanese attacked there in 1941. "There was this identification with history, and I think that was indelible," he says.

Growing up, Daniel's interest in history grew as his family went on cross-country trips to Florida from their home in Los Angeles, California. Along the way, they would stop at historic sites, including the Alamo in San Antonio, Texas, and Vicksburg National Military Park in Mississippi.

Daniel majored in history and communications at California State University-Dominguez Hills, in Carson, California. Later, he returned to the university for a master's degree in public history.

"My first oral history interview I ever did in college was of my grandfather, interviewing him about his experience in Pearl Harbor," Daniel says. "It was probably the most difficult oral history I ever did because my grandfather had never really spoken about it, and he got up four times and walked away from me [during the course of the interview]."

MOST EXCITING PART OF YOUR WORK

"I have the privilege from time to time to take people of importance on a tour of the memorial," Daniel says, including four presidents: George H.W. Bush, Bill Clinton, George Walker Bush, and Barack Obama. "I guess the other part of it is that I've worked with many, many gifted and considerate National Park Service employees. I work for a great agency, and for the most part, it's been an unbelievable privilege to do this."

MOST DEMANDING PART OF YOUR WORK

"I'm a manager now of history services, and I have a new staff historian," Daniel says. "I think the most demanding thing is just trying to manage an up-and-coming historian and guide her in the way that people helped me."

HOW DO YOU DEFINE GEOGRAPHY?

"The knowledge of geography is a knowledge of the landscape of our Earth and, more importantly, the landscape of history," Daniel says. "Without that skill set, it's such a restraint on knowledge. Without having a grasp of geography, it just bankrupts you from a broader understanding of the world."

GEO-CONNECTION

Daniel says that when talking to guests at the national monument, he usually begins with a geographic overview of Pearl Harbor.

"I cannot talk about Pearl Harbor without an introduction to geography," he says. "They have no idea in which direction [Japanese bombers] flew. They have no idea that Hawaii is deeply south of the [continental] United States, and that if you drew a line and went strictly east you'd go across Mexico."

Daniel consulted pre-World War II maps to gather information for the new Pearl Harbor Visitor Center, which opened on December 7, 2010. "Those [maps] helped us find the names of what those countries were [called] prior to World War II," and who controlled the islands and territories in the Pacific at the time, Daniel says. "The idea of using maps is essential in understanding the movement of forces and where battles took place and what possessions people held prior to and during World War II."

An oversized map of the Pacific is a striking feature in the new Pearl Harbor Visitor Center. "That map of the Pacific is almost 25 feet in diameter, and it meets you after you walk through the gate of the visitor center," he says. "You are there, and you see what the Pacific was like in 1941."

SO, YOU WANT TO BE A . . . HISTORIAN

"I cannot imagine an education without a history major and a communications major," Daniel says.

GET INVOLVED

Daniel notes that every once in awhile, a great history-based film comes along—like Ben Hur, Saving Private Ryan, or, more recently, The Conspirator. "It's that kind of stimulus that enlivens the American public," he says, "to discover their history."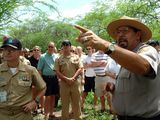 Landlocked History
Before joining the World War II Valor in the Pacific National Monument, Daniel worked for the National Park Service at Little Bighorn Battlefield National Monument in Crow Agency, Montana.
Alamo
(San Antonio, Texas) mission that was the site of a battle between Texans and Mexicans in 1836; almost all Texans were killed.
Barack Obama
(1961-present) 44th president of the United States.
battle
violent encounter during a conflict.
Bill Clinton
(1946-present) 42nd president of the United States (1993-2001).
bomber
airplane equipped to carry and drop bombs.
considerate
careful not to inconvenience or cause harm to others.
our planet, the third from the Sun. The Earth is the only place in the known universe that supports life.
foreman
person who oversees a project, especially construction.
geographer
person who studies places and the relationships between people and their environments.
study of places and the relationships between people and their environments.
George H.W. Bush
(1924-present) 41st president of the United States.
George Walker Bush
(1946-present) 43rd president of the United States.
historian
person who studies events and ideas of the past.
indelible
unable to be eliminated, changed, or forgotten.
inquiry
series of questions or an investigation into an event.
the geographic features of a region.
symbolic representation of selected characteristics of a place, usually drawn on a flat surface.
master's degree
level of education between the bachelor's and the doctor of philosophy (Ph.D.) degrees.
mooring quay
place where ships or boats are secured with cables and anchors to a permanent structure.
national monument
federal land set aside to protect objects of scientific and historical interest.
National Park Service
U.S. federal agency with the mission of caring "for special places saved by the American people so that all may experience our heritage."
oral history
information obtained by interviewing and recording the memories of people who experienced an event.
Pearl Harbor attack
(1941) air assault by Japanese on American forces at Pearl Harbor, Hawaii, which led to American entry into World War II.
privilege
benefit or special right.
public history
history that is seen, heard, read, and interpreted by a popular as well as academic audience.
restraint
something that holds back or controls.
stimulus
something that inspires or incites action.
university
institution for learning at the highest level.
World War II
(1939-1945) armed conflict between the Allies (represented by the United States, the United Kingdom, and the Soviet Union) and the Axis (represented by Germany, Italy, and Japan.)