Andrew Shaw and a crew of five paddled up the James River to re-create Chief Justice John Marshall's 1812 expedition and show that exploration can happen in your own backyard.

Andrew's own backyard includes the waterways of Virginia, where the river and the batteau culture are intricately tied to the region's history and development. A batteau is a flat-bottomed wooden boat used on Virginia's waterways throughout the 18th and 19th centuries, usually to transport goods from rural areas to markets in Richmond.

In 1812, Marshall traveled by batteau from Lynchburg to Kanawha Falls—now Glen Ferris, West Virginia—to determine the feasibility of a canal that would connect eastern Virginia to the Ohio River through the Appalachian Mountains. Marshall was joined for the entire journey by Andrew Alexander and a crew of boatmen, and for portions of it by 21 other commissioners. As a result of the trip, construction of the James River and Kanawha Canal was begun, although not completed—railroad technology ultimately outpaced canal transport. However, the route explored by Marshall is still an important transportation corridor: a rail line and Interstate 64 both run along a similar path.

Two hundred years later, Andrew and the rest of the "Marshall Expedition" crew—Dylan Schumacher, Isaac Schumacher, Ford Prior, Wesley Andrews, and Kevin Ferrel—built their own historically accurate batteau. Christened the Mary Marshall, she was their home for six weeks as they set out to re-create Marshall's expedition.

Shaw and the 2012 Marshall Expedition were awarded a Young Explorers grant. National Geographic's Young Explorers program awards these grants to scientists and explorers between the ages of 18 and 25. Grants are awarded to projects that generally fall under three categories: scientific research, applied conservation, or exploration and adventure.

EARLY WORK

Andrew grew up in Lynchburg. He started paddling at a young age, starting off with canoeing and moving on to whitewater kayaking.

"Something I've always really enjoyed and tried to stress is 'adventure in your own backyard,' which is really accessible in central Virginia, even though people might not think so," he explains.

"I'm a firm believer in engaging where you are," he says, and batteaux are an important part of Virginia's history, particularly in his hometown. Lynchburg straddles the Piedmont and Appalachia, and was a natural stopping point for people traveling to and from the rural west and Richmond.

Andrew built his first batteau for the annual James River Batteau Festival when he was 19 years old. (The festival includes participants poling home-built batteaux 193 kilometers (120 miles) from Lynchburg to Richmond.) He describes the process as "a pretty big undertaking"—batteaux are usually about 2 meters (6-8 feet) wide and 12-18 meters (40-60 feet) long.

He has now participated in three festivals, plus trips with friends.

Andrew graduated from the University of Virginia in 2011, where he majored in history. He enjoys "sales and working with people," and is currently working in real estate. He also enjoys writing, which he says may become a job in itself or a complement to his business career.

MOST EXCITING PART OF YOUR WORK

Andrew describes the "pure adrenaline rush" of navigating the New River Gorge, a 6-kilometer (4-mile) stretch of class III-IV rapids where the river drops drastically.

"Standing up on the front of the boat, cresting waves, and crashing on the other side," Andrew recalls, was "absolutely the most exciting part of the trip."

It also held the greatest risk. The crux of the gorge, Balcony Falls, is "the most significant rapid on the James," Andrew says, and ascending it required the crew to set up a rope-and-pulley system to pull themselves, and the boat, up.

"Balcony was significant because we still had about 85 miles of upstream poling to do after we were through it—if we had failed the whole thing would have fallen apart," Andrew says. "Historically, it represented a serious impediment to farmers who lived west of it."

Beyond the in-the-moment excitement of the trip, Andrew is also enthusiastic about the conversations the expedition started. He is proud of being able to "get people engaged in the story" of the role Marshall's expedition played in the development of the region.

"It was fun to have people come up and ask us what we were doing, and be able to share part of the region they're from," he says.

MOST DEMANDING PART OF YOUR WORK

Garnering support for such an unusual journey was a challenge. "If you went to any outdoors company and you said, hey, I want to put together this expedition to go summit XYZ peak in the Himalayas they would have a picture of what you were trying to do and why that would be significant for them in terms of marketing," Andrew explains.

By contrast, the unique and region-specific nature of the Marshall Expedition made it difficult for the crew to find sponsors that understood their project.

"I mean, you're trying to explain to somebody in Seattle what a cargo boat from the late 1700s in Virginia is like—I mean, for the most part they don't even have any concept of what the river you're on is like," Andrew points out. "I still find that when I explain the project to people that they don't really understand it until I show them pictures."

In terms of the journey itself, the physical work could be grueling at times. The first segment of the trip took Andrew and the crew more than 320 kilometers (200 miles) upstream, into the Appalachian foothills. That part of the trip was "characterized by everyday grinding-it-out."

The crew poled the boat, which entailed one person operating the rear sweep, with five others on poles made from ten- to twenty-foot saplings. The rear-sweep operator steers, and the other five stand at the bow, plant their poles in sync at the bottom of the riverbed, and walk to the back of the boat. That was repeated for anywhere from eight to fourteen hours a day, "depending on how ambitious we were," Andrew says.

HOW DO YOU DEFINE GEOGRAPHY?

"I think I would define it as the landscape that dictates the way people live their lives."

GEO-CONNECTION

"Broadly, geography is the single greatest indicator of how a society develops," Andrew says.

"It determines the way the culture develops, the industry—everything. In this case it was the determining factor in Marshall's survey. If Virginia was the Midwest and it was just all this one big flat plain, and the rivers were deep and wide, there would be no need to determine the feasibility of a canal because a canal wouldn't be necessary. But it was the hardship of that frontier that really drew out the grit and determination of Marshall and these other guys to facilitate development, to facilitate growth, to facilitate expansion westward and through Appalachia."

SO, YOU WANT TO BE AN . . . EXPLORER

Andrew's advice for students is to follow their interests and be proactive in asking questions or enlisting help. In his case, he grew up on the James, enjoyed spending time on the river, and thought the yearly batteau festival was something he may want to get involved with. So, he started "banging on doors" asking for guidance from festival veterans. He emphasizes willingness to "put yourself out there" and engage with people who are older or more experienced than you, and have knowledge to share.

GET INVOLVED

For anyone interested in batteau culture, the James River Batteau Festival is held every year, and the James River Association can be a great resource.

"[They] do tons of great stuff getting people involved," Andrew says.

Andrew also mentions their RiverRats Program, a conservation organization where volunteers can get involved in restoration projects or monitoring the James and its tributaries. For kids or families interested in paddling, there are plenty of accessible ways to get started, including taking a guided trip or renting a canoe or kayak and exploring on your own.

"There's a lot out there to explore!"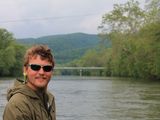 adrenaline
hormone that raises blood pressure, breathing, and carbohydrate metabolism. Also called epinephrine.
Appalachia
region surrounding the central and southern Appalachian Mountains, including their range from the states of Pennsylvania to Georgia.
batteau
flat-bottomed wooden boat used on rivers.
canoe
small, open boat with pointed ends.
management of a natural resource to prevent exploitation, destruction, or neglect.
crux
basic or very important part of something.
development
construction or preparation of land for housing, industry, or agriculture.
expedition
journey with a specific purpose, such as exploration.
frontier
largely unpopulated area that is slowly being opened up for settlement.
study of places and the relationships between people and their environments.
deep, narrow valley with steep sides, usually smaller than a canyon.
grit
courageous and tough character.
industry
activity that produces goods and services.
intricate
very detailed and complex.
kayak
small canoe made watertight around the waist of the occupant and moved in the water with a single paddle.
the geographic features of a region.
Piedmont
foothills and plateau in the eastern United States, between the Atlantic coastal plain and the Appalachian Mountains.
areas of fast-flowing water in a river or stream that is making a slight descent.
real estate
property and the business of buying, selling, and developing land.
rural
having to do with country life, or areas with few residents.
Articles & Profiles
Video
Websites