On April 3, 1860, a rider set out on horseback from St. Joseph, Missouri, United States. The man's name was Johnny Fry. He carried a bag of mail with him. Fry traveled west for many kilometers (miles). Then, he passed his bag on to another rider. This rider traveled more, then passed the bag to another, and so on. The mail arrived in California in nine days and 23 hours. It had traveled 3,319 kilometers (2,000 miles) across the whole continent of North America.

This was the first ride of the Pony Express. Never before had mail been delivered so quickly over such a great distance.

Les Bennington is the president of the National Pony Express Association. This group helps keep the memory of the Pony Express alive. Before 1860, mail was carried by stagecoach from the East Coast to the West Coast. It could also be sent by ship and train. The stagecoach took around three weeks. Routes that used boats could take months, Bennington said. Whatever mail and news carried over those routes was old, he said. Now, with the Pony Express, mail could be delivered in just 10 days.

Riding the Pony Express

The Pony Express had 153 stations along its route. Riders used the stations to rest, switch horses, and pass off the mail. Altogether, there were around 80 riders and between 400 to 500 horses. They carried mail from the Midwest to the new state of California. The western end of the Pony Express was Sacramento, California.

Riders for the Pony Express carried the mail in saddlebags. Each rider traveled for about 120 to 160 kilometers (75 to 100 miles). They then passed the mail to another rider at a home station. Some home stations were nice hotels. Others were nothing but a simple shack.

Riders would stop every 16 to 24 kilometers (10 to 15 miles). They would then hop onto a fresh horse. The horses were waiting for them at one of the four to six stations on their section of the route.

Most of the riders were small, lightweight men around 20 years old. The most popular rider was William Frederick "Buffalo Bill" Cody. He later became famous for his Wild West stage show.

Pony Express riders traveled over mountains and through deserts. They had to deal with everything from tornadoes to bison stampedes. However, the greatest challenge came in May of 1860. In that month, the Pyramid Lake War broke out.

The war began after many white settlers arrived in Nevada to look for silver. The Paiute tribe which lived in the region felt their land was being invaded. They decided to fight back. They began attacking and destroying Pony Express stations. The company had to end travel through Nevada and Utah for a month.

It wasn't the Pony Express riders who were most in danger, Bennington said. It was the station keepers. Quite a few of them were killed. Only a few riders were killed as they were delivering the mail. Several more were killed defending the stations, Bennington said. Station keepers were people who ran the stations.

The Pony Express ended after just 18 months. War with the Paiute wasn't the reason. It was a new invention, the telegraph machine. The machine allowed people to send messages instantly from one end of the country to the other.

Legacy of the Pony Express

The Pony Express had a short run. It has never been forgotten, though. It played an important role in the history of the U.S. West. Every year since 1980, the National Pony Express Association has organized a ride along the Pony Express Trail.

Bennington said the Pony Express riders had a tough job. When it's cold out, "there's no place colder than on the back of a horse," he said. The riders didn't have the kind of warm clothes we have today. "You gotta keep in mind they didn't have down-filled jackets or hats made for snowy conditions," Bennington said.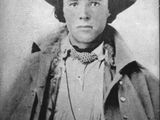 advent
start or beginning of something.
American West
U.S. states west of the Missisippi River.
awe
great respect or amazement.
bison
large mammal native to North America. Also called American buffalo.
Butterfield Overland Mail Trail
(1857-1861) mail route from Missouri to California.
cavalry
military unit that serves on horseback.
Clydesdale
large, powerful horse originally bred in Scotland.
edge of land along the sea or other large body of water.
communication
sharing of information and ideas.
one of the seven main land masses on Earth.
area of land that receives no more than 25 centimeters (10 inches) of precipitation a year.
growth, or changing from one condition to another.
down
soft, fuzzy feathers of young birds.
dugout
temporary shelter dug out from the earth around a river or hill.
eastern seaboard
eastern coast of a continent, usually referring to the east coast of the United States, from Maine to Florida.
embark
to leave or set off on a journey.
gallop
to ride a horse at full speed.
Global Positioning System (GPS)
system of satellites and receiving devices used to determine the location of something on Earth.
historian
person who studies events and ideas of the past.
home station
stop on the Pony Express where riders would rest and transfer mail to another rider.
horseback
riding on the back of a horse.
hotel
business offering shelter to guests.
isolate
to set one thing or organism apart from others.
narrow strip of land connecting two larger land masses.
Midwest
area of the United States consisting of the following states: Illinois, Indiana, Iowa, Kansas, Michigan, Minnesota, Missouri, Nebraska, North Dakota, Ohio, South Dakota, and Wisconsin.
Native American
person whose ancestors were native inhabitants of North or South America. Native American usually does not include Eskimo or Hawaiian people.
Paiute
people and culture native to the Great Basin.
Pony Express
(1860-1861) mail route between Missouri and California.
prominent
important or standing out.
Pyramid Lake War
(1860) violent dispute between settlers and Paiute, centered around Pyramid Lake, Nevada. Also called the Paiute War or the Washoe Indian War.
relatively
in comparison to something else.
reliable
dependable or consistent.
rugged
having an irregular or jagged surface.
saddlebag
large bag laid over the back of a horse, behind the saddle.
settler
person who migrates and establishes a residence in a largely unpopulated area.
Spartan
simple and lacking in any luxury.
stable
building where horses or other animals are kept.
stagecoach
covered vehicle pulled by horses, used to transport people and cargo.
stampede
sudden, violent movement of a crowd.
surge
sudden, strong movement forward.
susceptible
able to be influenced to behave a certain way.
suspend
to temporarily stop an activity.
telegraph
system of communication involving devices connected through electrical wires.
temporary
not lasting or permanent.
terrain
topographic features of an area.
tornado
a violently rotating column of air that forms at the bottom of a cloud and touches the ground.
transfer
to pass or switch from one to another.
developed, densely populated area where most inhabitants have nonagricultural jobs.
Utah Territory
(1850-1896) administrative area of the United States, including all or part of the modern states of Colorado, Wyoming, Nevada, and Utah.
Wild West
(1850-1900) western part of the United States, before and during the establishment of stable government.
William Frederick "Buffalo Bill" Cody
(1846-1917) American entertainer.