Links
website
map
The two types of plate boundaries that are most likely to produce volcanic activity are divergent plate boundaries and convergent plate boundaries.
The mighty Andes Mountains of South America run parallel to the Peru-Chile Trench. These mountains are continually built up as the Nazca plate subducts under the South American plate. The Andes Mountains include the world's highest active volcano, Nevados Ojos del Salado, which rises to 6,879 meters (over 22,500 feet) along the Chile-Argentina border.
For many years, scientists have been trying to explain why some volcanoes exist thousands of kilometers away from tectonic plate boundaries.
Shield volcanoes make up the entirety of the Hawaiian Islands. The Kilauea and Mauna Loa shield volcanoes, located on the "Big Island" of Hawaii, rise from the ocean floor more than 4,500 meters (15,000 feet) below sea level. The summit of Mauna Loa stands at 4,168 meters (13,677 feet) above sea level and more than 8,500 meters (28,000 feet) above the ocean floor, making it the world's largest active volcano—and, by some accounts, the world's tallest mountain. The smaller volcano, Kilauea, has been erupting continuously since 1983, making it one of the world's most active volcanoes.
Crater Lake, Oregon, is in a caldera about 10 kilometers (6 miles) wide. Crater Lake's caldera resulted from an eruption that occurred more than 7,000 years ago. The volcano's magma chamber collapsed, then filled with water from rain and snow, creating the lake. Crater Lake is the deepest lake in the United States.
These eruptions are named after the Hawaiian Islands, where they most often occur. Kilauea, which has been erupting continuously since 1983, has produced lava flows covering more than 100 square kilometers (37 square miles) on the island of Hawaii. These flows continuously destroy houses and communities in their path, while also adding new coastline to the island.
Strombolian eruptions are named after the Mediterranean island of Stromboli, Italy. Considered by many to be the most active volcano on Earth, Stromboli has been erupting almost continuously for 2,000 years. The island's eruptions are almost always Strombolian in nature: Small gas explosions eject blobs of lava into the air a couple of times per hour.
The 2013 vulcanian eruption of Sakurajima, on the island of Kyushu, Japan, covered the nearby city of Kagoshima in a thick coat of ash.
Many volcanic materials and processes pose a threat to human, animal, and other ecological communities.
Pyroclastic flows are responsible for the haunting figures from Pompeii and Herculaneum, Italy. While many scientists thought residents of Pompeii suffocated to death from volcanic gases released during Mount Vesuvius' eruption in 79 CE, new studies suggest that they actually died from extreme heat produced by the volcano's pyroclastic flow.
The 1994 double eruption of Vulcan and Tavurvur in Papua New Guinea covered the nearby city of Rabaul in a layer of ash up to 75 centimeters (about 2 feet) deep. Rains turned the ash into a cement-like substance that was heavy enough to collapse 80% of the buildings in the city.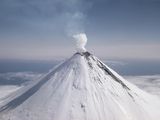 Volcanic Deities
Volcanoes are such powerful forces of nature that many cultures in volcanically active regions have sophisticated mythologies supporting gods and goddesses of volcanoes.
Vulcan (for whom volcanoes are named) is a Roman god.
Hephaestus is a Greek god from whom Vulcan developed.
Pele is a Hawaiian goddess.
Ruaumoko is a Maori god.
Xiahtecuhtli is an Aztec god.
Ayanju is a Yoruba orisha, or deity.
Kagu-Tsuchi is a Japanese kami, or spirit.
Subglacial Eruptions
One of the most mysterious types of volcanic eruptions is a subglacial eruption, which takes place on ice-covered volcanoes. Subglacial eruptions often result in flooding, as glaciers are heated by hot magma and volcanic gas. This sudden, violent flooding of glacial meltwater is called a jökulhlaup.
Decade Volcanoes
The "Decade Volcanoes" form a list of what could be considered the most hazardous volcanoes on the planet. The 16 decade volcanoes are:
Avachinsky-Koryaksky, Russia
Colima, Mexico
Etna, Italy
Galeras, Colombia
Mauna Loa, USA
Merapi, Indonesia
Nyiragongo, Dem. Rep. of the Congo
Rainier, USA
Sakurajima, Japan
Santa Maria/Santiaguito, Guatemala
Santorini, Greece
Taal, Philippines
Teide, Spain (Canary Islands)
Ulawun, Papau New Guinea
Unzen, Japan
Vesuvius, Italy
Volcanoes . . . IN SPACE!
The largest volcano known to humanity is not actually on Earth! Olympus Mons is a dormant shield volcano on Mars that is taller than three Mount Everests and is about as wide as the entire Hawaiian Islands chain.
The most volcanically active body in our solar system is not Earth at all. It's Jupiter's moon Io. At any one time, Io has 400 active volcanoes, which can shoot plumes up to 500 kilometers (300 miles) into outer space! In 2001, a volcano in Io's Surt region produced the largest eruption ever recorded, covering 1,900 square kilometers (1,180 square miles), an area larger than the city of Los Angeles.