Far off the coast of Somalia, in the Indian Ocean, Capt. John Hawkins and his crew on the cargo ship Sheila McDevitt had their first encounter with pirates.

It was 2006, and about 10 men on a suspicious-looking boat were trying to flag down the Sheila McDevitt 170 kilometers (105 miles) off shore, saying they were having engine problems.

"We had been hearing about it in reports over the last year or so that that was one of their techniques that they used to get us to stop," Hawkins says. "So we didn't stop."

As Hawkins and his crew cut through the moderately calm seas, the 15-meter (50-foot) fishing vessel, which a few minutes earlier had cited engine difficulties, began quickly tailing the Sheila McDevitt.

"We were not necessarily surprised, but we were a bit shaken to realize that we were being pursued," Hawkins says. "We were well aware of similar events that had occurred with other vessels in that area, and while it is always a bit disconcerting when something you read actually happens to you, I believe our reaction was appropriate."

As the suspicious fishing boat continued to follow his ship, Hawkins briefly thought it was attempting to herd the Sheila McDevitt into a region where other pirates were waiting. "We were hearing radio communications between what appeared to be the vessel pursuing us and another in some local dialect that we did not understand," Hawkins says.

Luckily for the crew of the Sheila McDevitt, they finally lost sight of the suspicious boat a couple of hours later. "They tried to intercept our course, but we turned away from them," Hawkins says. "And they never got closer than half a mile."

Piracy on the Rise

Unfortunately, experiences with pirates in the world's oceans are rising for vessels like the Sheila McDevitt.

A report by the ICC International Maritime Bureau's Piracy Reporting Centre, which has monitored piracy incidents since 1992, found there were 445 attacks on ships in 2010, up 10 percent from the year before. Fifty-three ships were hijacked, and 1,181 crewmembers were taken hostage.

"These figures for the number of hostages and vessels taken are the highest we have ever seen," the director of the Piracy Reporting Centre, Capt. Pottengal Mukundan, says in the report. "The continued increase in these numbers is alarming."

As of March 16, 2011, there were 119 pirate attacks on boats for the year, including 83 off the coast of Somalia. In February 2011, four Americans were killed after Somali pirates hijacked their sailboat in an incident that became widely reported around the world.

Hawkins says that when he started out as a merchant seaman, the coast of Somalia was not known for pirate activity.

"Even when I was training back in the early '80s as a cadet on a ship, we'd heard about pirates in certain parts of the world," he says. "Back then, the one that you really heard about was the Strait of Malacca around Indonesia. Piracy was in that part of the world. You never heard about piracy like you do off the coast of Africa or the Red Sea."

Today, according to the Piracy Reporting Centre, piracy off the coast of Somalia accounted for 92 percent of all ship seizures in 2010.

Hawkins says he knows why piracy has exploded in the Indian Ocean around Africa. "[Pirates] can take the ships and anchor them off the coast of Somalia, and the government doesn't stop them," he says. "There's really not many places in the world—in fact, there's none I can think of—that will let a hijacked ship just anchor off their country."

Hawkins views the pirates' recent trend toward armed kidnapping as a change in their strategy. Earlier, pirates were only interested in robbery. "They wanted to take your cash and valuables and get that stuff and leave, until somebody figured out there were millions of dollars to be made by hijacking a ship," he says.

"When you are talking about people that are living off virtually nothing, it's worth it. You are talking about winning the lottery for these guys that are successful on one pirate attempt."

Protection from Piracy

With no apparent end in sight to piracy on the high seas, Hawkins is developing ways to protect his vessel from attacks. Some methods include doubling up on the crew's watches in an attempt to detect pirates early, and ringing the ship with razor wire and barbed wire when it is preparing to head into dangerous waters.

In addition, the Sheila McDevitt and other vessels are employing private security forces for protection.

"They fly in and join the ship before we go into a high-risk area," Hawkins says. "They'll stay on the ship while we are in that area. When we finally finish what we are doing there and leave, then they get off the ship."

Hawkins says the rising number of pirate attacks is taking its toll on the world's cargo ships. "They've cost the shipping industries millions of dollars, and the governments too," he says. "All those Navy ships they've put out there are spending millions, probably billions, over the years trying to beat guys that make $20 to $30 a month."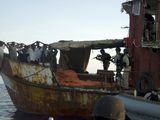 Prosecution for Piracy
The United States has taken a strong stand against piracy. American courts have successfully prosecuted Somali pirates who have attacked American vessels. Pirates face the possibility of life in prison.
Vessels at Risk
Most pirate attacks are carried out against bulk carrier and container vessels. These vessels carry millions of dollars worth of goods, for which pirates know they can get a large ransom.
Anchored Attacks
Not all piracy takes place at sea. Ships that are anchored at port can also be at risk. These ports had the highest number of piracy incidents in 2010.
1. Chittagong, Bangladesh (22)
2. Lagos, Nigeria (11)
3. Callao, Peru (9)
Piracy Reporting Centre
The Piracy Reporting Centre (PRC) was founded in Kuala Lumpur, Malaysia, in 1992. The services of the PRC are available, free of charge, to all ships. The services of the PRC include:
giving ships daily status reports on piracy and armed robbery
reporting piracy and armed robbery at sea to law enforcement
helping law enforcement apprehend pirates and bring them to justice
assisting ship owners whose vessels have been attacked or hijacked
assisting crewmembers whose vessels have been attacked
providing updates on pirate activity on the web, Twitter, and email alerts
publishing comprehensive quarterly and annual reports detailing piracy statistics
Pirate Attack
Capt. John Hawkins recalls hearing a pirate attack on his ships radio while going from Djibouti to the Red Sea. It was shocking to me to hear how quickly the whole takeover occurred, he says. It seemed only a matter of minutes from when the first 'Mayday' went out until the captain radioed the coalition vessel to back off because the pirates had taken them hostage. I believe all that overheard the communications had the same thought . . . That could have been us. We were all uneasy. I recall running a mental checklist of all the things we were supposed to do if attacked and remembered thinking that it would have been extremely difficult to do it all in that short amount of time.
alarming
shocking or very surprising.
barbed wire
twisted metal with sharpened points, often used for fences.
cadet
student or trainee at a military academy or training ship.
cargo
goods carried by a ship, plane, or other vehicle.
edge of land along the sea or other large body of water.
dialect
distinct variation of a language, usually marked by accents and grammar.
disconcerting
causing worry or concern.
engine
machine that converts energy into power or motion.
government
system or order of a nation, state, or other political unit.
high seas
part of the ocean not belonging to any country or nation. Also called the open sea.
hijack
to steal a transportation vessel, such as a truck or plane, or the cargo it is carrying.
intercept
to stop the progress of something, and often take it over.
kidnap
to hold a person hostage, usually for ransom.
merchant seaman
person who works for a merchant shipping organization, which transports cargo or passengers.
monitor
to observe and record behavior or data.
pirate
thief who steals from ships or ships' crews while at sea.
private sector
section of the economy that works for profit, such as corporations (not government or nonprofit organizations).
pursue
to seek or strive to accomplish.
razor wire
wire with pieces of very sharp metal embedded in it.
robbery
illegal taking of another person's or organization's property.
sailboat
aquatic vessel that uses wind to maneuver and move.
seizure
sudden onset of a convulsion or loss of physical control.
shipping
transportation of goods, usually by large boat.
narrow passage of water that connects two larger bodies of water.
strategy
plan or method of achieving a goal.
suspicious
distrustful or unbelieving.
watch
close guard of something in order to protect it.
Articles & Profiles
Audio & Video
Websites