This story is taken from Explorer magazine, a nonfiction reading resource for learners in second to fifth grade, published by National Geographic Society. Have your learners read the story and then test their comprehension with the reading and/or content activities included in the story.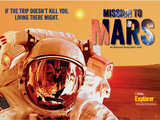 astronaut
person who takes part in space flights.
fuel
material that provides power or energy.
environment where an organism lives throughout the year or for shorter periods of time.
modular
made of individual, complete units or sections.
orbit
path of one object around a more massive object.
resource
substances such as water, air, shelter, and food sources which are valuable in supporting life.
shelter
structure that protects people or other organisms from weather and other dangers.