Mary Seacole was a daring adventurer of the 19th century. A Jamaican woman of mixed race, she was awarded the Order of Merit posthumously by the government of Jamaica and celebrated as a "Black Briton" in the United Kingdom.
The Crimea was strategically important to European and Asian powers. Whoever had control of the Crimean Peninsula also had control of the overland routes to India. In March 1854 Britain and France, in support of the Ottoman Empire, declared war against Russia.
Although Seacole saw regiments she knew leave, she returned to Panama to wind up her business, and did some gold prospecting.
On the sinking of a supply ship in November, however, Seacole found herself increasingly inclined "to join my old friends of the 97th, 48th and other regiments," so she "threw over the gold speculation altogether and devoted all my energies to my new scheme." She describes visiting various government offices to seek a position, but was turned down.
Her plans for nursing frustrated, Seacole decided to open a business instead. Her business partner was a relative of her husband's, Thomas Day, whom she knew from Panama and encountered again in London. She arrived in Turkey in March 1855, some months after the major battles had been fought.
Seacole set up her British Hotel between Sevastopol and Balaklava in the Crimea, naming the spot Spring Hill. (Spring Hill is now part of Ukraine.) The British Hotel was not a "hotel" in the modern meaning of the word. While Seacole's original intention had been to open "a mess table and comfortable quarters for sick and convalescent officers," in fact she established a hut which served as an all-in-one store-restaurant for officers, with a "canteen" for ordinary soldiers.
While waiting for her "tumble-down hut" to be ready, Seacole stayed on board a ship in Sevastopol's harbor, and gave hot tea, cake, and lemonade to soldiers on the wharf waiting transport to the general hospitals. The weather was cold and the kindness much appreciated.
Part of Seacole's business was to provide refreshments to battle spectators. She did this on three occasions, then ventured on to the battlefield after hostilities were over, to assist the wounded and, sometimes, to give comfort to the dying.
Seacole's business thrived after the fall of Sevastopol. During this period, there were no more battles, but the peace treaty was still under negotiation.
"Pleasure was hunted keenly," she writes, and was found in "cricket matches, picnics, dinner parties, races, theatricals . . . My restaurant was always full." Her kitchen sold everything from soup to fish, curry to custards, pastries to poultry.
Seacole and Day brought in expensive supplies, expecting the negotiations to continue longer than they did. As soon as the peace treaty was signed, on March 30, 1856, the troops began to leave. Seacole and her partner could not sell their supplies. Seacole herself destroyed cases of red wine rather than let it fall into the hands of the Russians.
Queen Victoria, the future King Edward VII, and his brother the Duke of Edinburgh helped with a second "Seacole Fund." The second Seacole Fund provided her with a comfortable income for the rest of her life.
In 2004, more than 10,000 people voted Mary Seacole the "Greatest Black Briton."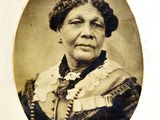 Yellow Fever
Yellow fever (sometimes called yellow jack) is a virus that is transmitted by mosquitoes. The virus attacks the body's organs, particularly the liver. Pigments build up in the body, giving the skin and eyes a yellowish tinge called jaundice. People can develop yellow fever within 3-6 days after being bitten by a mosquito containing the virus. Symptoms include sudden fever, headache, back and muscle aches, nausea, and vomiting. Some yellow fever victims progress into a second phase of the disease, called the toxic phase. Symptoms include high fever, vomiting, bleeding, and coma. In the 19th century, up to 50 percent of yellow fever patients in the toxic phase would die. Yellow fever is not contagious. A vaccine was developed in 1937 by Max Theiler, a South African doctor and research scientist.
Cholera
Cholera is caused by the bacterium Vibrio cholerae, which enters a person's intestines and releases cholera toxin. The bacterium is usually found in water or food contaminated by feces. Symptoms include diarrhea, vomiting, and leg cramps. Without treatment, dehydration and even death can occur within hours. The effective treatment for cholera today is oral rehydration therapy, to replace the lost electrolytes essential to keep the heart functioning. The remedies Mary Seacole and many doctors of the time used were counter-productive, promoting dehydration by vomiting, bowel purging, and sweating.
A Womans Help
"I am not ashamed to confess for the gratification is, after all, a selfish one that I love to be of service to those who need a woman's help. And wherever the need arises on whatever distant shore I ask no greater or higher privilege than to minister to it."
—Mary Seacole
Admiral Lord Nelson
(Horatio Nelson, 1758-1805) British naval leader.
battlefield
specific place where violence is carried out, as part of a larger war or other conflict.
black
person of African descent.
boarding house
house where residents pay for space, utilities, and food.
California Gold Rush
(1848-1855) worldwide immigration to California following the discovery of gold.
program of a nation, state, or other region that counts the population and usually gives its characteristics, such as age and gender.
cholera
infectious, sometimes fatal disease that harms the intestines.
citizen
member of a country, state, or town who shares responsibilities for the area and benefits from being a member.
colony
people and land separated by distance or culture from the government that controls them.
commemorative
something done to honor an historical event or person.
consequence
result or outcome of an action or situation.
Creole
people and culture of the Native American, French, Caribbean, African, and Spanish settlers of the American Gulf Coast, especially the state of Louisiana.
Crimea
large peninsula on the northern coast of the Black Sea, and a republic of Ukraine.
Crimean War
(1853-1856) conflict between the Allies (France, Britain, the Ottoman Empire and the Kingdom of Sardinia) and Russia.
emetic
substance that causes vomiting.
outbreak of an infectious disease able to spread rapidly.
generous
having a giving or useful nature.
godson
boy who is sponsored at baptism by an adult who is not his parent (godparent).
gold field
geographic area where gold is mined.
gravestone
stone marking a person's burial place, often engraved with the person's name and dates of birth and death.
headquarters
place where an organization or project is chiefly located.
narrow strip of land connecting two larger land masses.
symbolic representation of selected characteristics of a place, usually drawn on a flat surface.
nursing
care and treatment of the sick.
Ottoman Empire
(1299-1923) empire based in Turkey and stretching throughout southern Europe, the Middle East, and North Africa.
outbreak
sudden occurrence or rapid increase.
Panama Canal
artificial waterway between the Pacific Ocean and the Caribbean Sea through the country of Panama.
piece of land jutting into a body of water.
poultice
warm, moist cloth or other material applied to a patient's body to combat chills, improve circulation, and treat inflamed areas.
precursor
forerunner, or something that goes before.
prospector
person who searches or mines land for precious metals.
rummage
to actively search through the contents of something thoroughly.
salvage
to save material from destruction.
place where partial ownership of companies, goods, and services (stocks, bonds, and securities) are bought and sold.
strategic
important part of a place or plan.
stroke
injury caused by a blood clot in the brain.
widow
woman whose husband has died.