Magma leaves the confines of the upper mantle and crust in two major ways: as an intrusion or as an extrusion. An intrusion can form features such as dikes and xenoliths. An extrusion could include lava and volcanic rock.
The pool of magma in a magma chamber is layered. The least-dense magma rises to the top. The densest magma sinks near the bottom of the chamber. Over millions of years, many magma chambers simply cool to form a pluton or large igneous intrusion.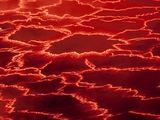 Mysterious Magma
Magma is usually studied as lava or igneous rock. But most magma remains molten or partly molten beneath Earth's surface. In fact, magma has only been discovered three times in its "natural" habitat deep in Earth's crust. Geothermal drilling projects discovered two magma sites on the "Big Island" of Hawaii, and one on Iceland.
Tapping into Magma's Potential
In 2009, the Icelandic Deep Drilling Project created a well that uses magma to generate geothermal energy. Normally, geothermal energy is created by pumping water into hot volcanic bedrock, creating steam that is then harnessed to generate electricity. While normal geothermal sources average around 60° to 80° Celsius (140° to 176° Fahrenheit), the magma well's steam reached a record-breaking temperature of 450° Celsius (842° Fahrenheit)! This huge increase in temperature allowed just one magma well to generate roughly 36 megawatts of electricity, powering 36,000 homes. In comparison, one single wind turbine generates between 1 to 3 megawatts.
Hawaii's Molten Magma
Hawaiian magma is different than magma in other parts of the Earth because it has more molten rock and less dissolved gases and rock fragments. The Hawaiian volcano Kilauea, on the "Big Island" of Hawaii, has erupted with enough molten lava to pave a road around the Earth three times.