This story is taken from Young Explorer magazine, a nonfiction reading resource for learners in kindergarten and first grade, published by National Geographic Society. Have your learners read the story and then test their comprehension with the reading and/or content activities included in the article.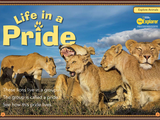 African lion
(Panthera leo) large cat native to sub-Saharan Africa.
cub
the name for the young of certain animals, like bears and lions.
prey
animal that is hunted and eaten by other animals.
protect
to take action to prevent injury or attack.