"After we took the eucalyptus out, the lake got clearer," she says.
Thomas then points to traffic zooming by on Highway 1, perched right above the body of water.
"We think [the lake's size] has been reduced about a third," Thomas says.
"That would be so easy to get," he says, clearly wishing he had a net to nab the non-native.
Getting rid of Mountain Lake's carp is one of the biggest challenges to the Presidio Trust's restoration efforts.
Young notes that being a natural space within an urban area means that over the years, San Franciscans have deposited non-native turtles, frogs, and fish into Mountain Lake.
"We were able to get an idea of plants and animals that used to be in the area," he says.
The Presidio Trust hopes to begin with placing Pacific chorus frogs, western pond turtles, freshwater mussels, Pacific newts, and three-spined stickleback (a small fish) back into Mountain Lake and the surrounding land. Eventually, they hope to welcome the endangered California red-legged frog. They are hoping to start reintroducing the three-spined stickleback in late 2014.
The organization still needs to do more work to get Mountain Lake ready for the fish.
The restoration is a complicated process that relies on goals having to be met before the native plants and animals can be reintroduced.
"Ultimately, urban restoration projects like this," Thomas says, "depend on the community."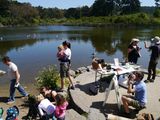 army base
facility owned and operated by an army, housing troops and equipment.
carp
freshwater fish native to Europe and Asia.
city
large settlement with a high population density.
management of a natural resource to prevent exploitation, destruction, or neglect.
contaminant
harmful or toxic substance.
contaminate
to poison or make hazardous.
dredge
to remove sand, silt, or other material from the bottom of a body of water.
dynamic
always changing or in motion.
ecologist
scientist who studies the relationships between organisms and their environments.
community and interactions of living and nonliving things in an area.
electricity
set of physical phenomena associated with the presence and flow of electric charge.
expedition
journey with a specific purpose, such as exploration.
exploration
study and investigation of unknown places, concepts, or issues.
federal
having to do with a nation's government (as opposed to local or regional government).
forage
to search for food or other needs.
gill net
effective type of fishing net that is suspended vertically in water by weights and floats. Fish are caught as they try to swim through.
environment where an organism lives throughout the year or for shorter periods of time.
characteristic to or of a specific place.
type of plant or animal that is not indigenous to a particular area and causes economic or environmental harm.
body of water surrounded by land.
landfill
site where garbage is layered with dirt and other absorbing material to prevent contamination of the surrounding land or water.
lead
chemical element with the symbol Pb.
an area within a larger city or town where people live and interact with one another.
non-native species
a type of plant or animal that is not indigenous to a particular area. Non-native species can sometimes cause economic or environmental harm as an invasive species.
area made fertile by a source of fresh water in an otherwise arid region.
perch
to sit or rest on a tree branch or other elevated position.
predatory
killing other animals for food.
preserve
to maintain and keep safe from damage.
presidio
military fort or garrison.
remediate
to correct (remedy) damage to the environment.
repository
place where things are stored or deposited.
restoration
repair of damage to an ecosystem so that it can function as a normal self-regulating system.
root
part of a plant that secures it in the soil, obtains water and nutrients, and often stores food made by leaves.
overflow of fluid from a farm or industrial factory.
secluded
sheltered, protected, and isolated.
solid material transported and deposited by water, ice, and wind.
traffic
movement of many things, often vehicles, in a specific area.
transport
to move material from one place to another.
developed, densely populated area where most inhabitants have nonagricultural jobs.
vegetation
all the plant life of a specific place.
vineyard
agricultural area with grapevines grown for wine.