Dr. Jodi Magness, Kenan Distinguished Professor for Teaching Excellence in Early Judaism at the University of North Carolina at Chapel Hill and director of the Huqoq Excavation Project
"In our case, it would not have worked because the synagogue is covered by the bulldozed ruins of the village of 1948," Magness says.
"Once you have dug that dirt out of the ground or taken those stones out you can never put them back the way they were," she says. "The goal is to record every single thing you are doing as completely as possible. In the end, we publish all of that information so that the information will be available to others who can then take the information and reconstruct in three dimensions something that no longer exists."
Technology has proved to be essential in such recording efforts. Magness' team documented the synagogue mosaic, for instance, by using high-tech photography and drawing tools.
In the past, archaeologists recorded their finds on paper forms, but technology has changed the way information is recorded at Huqoq.
"We have aerial photographs taken on the last day, because they help in showing the relationship between the different excavated areas and squares, and are an invaluable complement to the top plans of the site," Magness says.
"We have had some spectacular discoveries," she says, "which we have released to the public through press releases."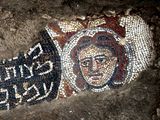 aerial photograph
picture of part of the Earth's surface, usually taken from an airplane.
archaeological site
place where evidence of the past is being studied by scientists.
archaeologist
person who studies artifacts and lifestyles of ancient cultures.
material remains of a culture, such as tools, clothing, or food.
AutoCAD
software program used by engineers, geographers, and other professionals to help design and model land areas and build infrastructure.
data
(singular: datum) information collected during a scientific study.
drafting
art and science of creating plans that visually communicate how something functions or is constructed. Also called technical drawing.
establish
to form or officially organize.
excavation
area that has been dug up or exposed for study.
feature
non-portable archaeological remains, such as pyramids or post-holes.
fertile
able to produce crops or sustain agriculture.
any system for capturing, storing, checking, and displaying data related to positions on the Earth's surface.
ground-penetrating radar
method of providing an image of an area beneath the surface of the earth, using sound waves.
Hebrew Bible
holy writings of the Jewish faith that correspond with the Old Testament writings of the Christian faith. Also called the Hebrew Scriptures.
historian
person who studies events and ideas of the past.
interpret
to explain or understand the meaning of something.
manipulate
to manage a complex device or situation with great skill.
meticulous
very detailed and precise.
mosaic
picture or design made from many tiny pieces of colored glass.
outbreak
sudden occurrence or rapid increase.
retrieve
to bring back, restore, or recover.
spring
small flow of water flowing naturally from an underground water source.
survey
a study or analysis of characteristics of an area or a population.
synagogue
place of worship for Jewish people.
technology
the science of using tools and complex machines to make human life easier or more profitable.
topography
study of the shape of the surface features of an area.
total station
instrument used in land surveying that combines electronic and optical equipment to evaluate an area's location, features, and topography.
small human settlement usually found in a rural setting.