National Geographic staff recommended more books than could fit in five booklists (Geography in Fiction, Nature and the Environment, Summer Vacations, Explorers Recommend, and The Adventure in Your Community) this year.

Here are sundry recommendations from National Geographic Education staff. Season's reading!

Children (ages 4-8)

Where the Wild Things Are, by Maurice Sendak. "Sent to bed without supper, true explorer Max sails to the land of Wild Things, where he encounters monsters, conquers his fears, and is even made king. But like many adventurers, he yearns for home and finds himself back in his room with his still-hot supper waiting for him. A travel classic, in my opinion."
—Amy Alipio, associate editor (Traveler magazine)

The Lorax, by Dr. Seuss. "Published in 1971, The Lorax is an ecological warning that still rings true today amidst the dangers of clear-cutting, pollution, and disregard for the Earth's environment. In The Lorax, we find what we've come to expect from the illustrious doctor: brilliantly whimsical rhymes, delightfully original creatures, and weirdly undulating illustrations. But here there is also something more—a powerful message that Seuss implores both adults and children to heed."
—Justine Kendall, partnerships and communications coordinator

Felix Travels Back in Time, by Annette Langen and Constanza Droop. "This wonderful story is about a cuddly rabbit named Felix that disappears in a museum store. Sophie, his very sad friend, then begins to receive letters from Felix that come from ancient Greece, from the Viking era, Middle Ages and more. Felix finally finds Sophie and all is well. The book includes letters from Felix that you can pull out and read and a wonderful map with both geographic and historical information."
—Brenda Barr, director (Alliance programs)

Counting Our Way to Maine, by Maggie Smith. "This book charmingly captures the zany fun of a family road trip and vacation, while helping kids learn to count. The illustrations are funny and sweet, and the narrative arc is detailed and well-constructed, offering much more depth than a typical counting book. Kids will want to take their own summer trip to Maine to dig clams, see boats, and bake blueberry pies."
—Jennifer Emmett, editorial director (children's books)

Mr. Putter & Tabby Clear the Decks, by Cynthia Rylant. "Mrs. Teaberry convinces her neighbor, Mr. Potter, to take their pets and go on a boating adventure together. Whimsical and beautifully illustrated, this is a fine way to introduce young readers to chapter books."
—Mary Schons, reporter

Children (ages 9-12)

Paddle-to-the-Sea, by Holling C. Holling. "Deceptively simple and perfectly illustrated, this is the story of a journey from the Great Lakes, up the St. Lawrence Seaway and out to the Atlantic Ocean. Lumber yards, steel mills, and geophysics never, ever, looked so good."
—Caryl-Sue, senior writer/editor (reference and news)

A Well-Timed Enchantment, by Vivian Vande Velde. "Deanna isn't looking forward to spending the summer on a farm in France with only a cat for a friend. Her world gets turned upside down, though, when her watch—and then she!—falls down a magic well. Deanna quickly finds herself in medieval France. Now Deanna, the cat, and her watch may end up changing the course of history."
—Shelby Alinsky, interactive editor (Explorer magazines)

The Cay, by Theodore Taylor. "In 1942, when 11-year-old Phillip and his mother are fleeing Curacao, their ship is torpedoed by a German submarine. Knocked unconscious, Phillip awakens on a raft, adrift, his only companions, Timothy, an old West Indian man, and a cat. When they reach a small island, Phillip, now blind from his head injury, must rely on Timothy for survival. An award-winning story of prejudice, sacrifice, and friendship."
—Nancy Wynne, educator reviewer

Young Adult

Sea Change: A Message of the Oceans, by Sylvia Earle. "This, along with its sequel, The World is Blue, is a serious look at the state of the world's oceans."
—Sylvia Earle, oceanographer and Explorer-in-Residence

Students

The Clan of the Cave Bear, by Jean M. Auel. "Prehistory, migration, adaptation/evolution . . . This book, which is the first in a series, is dominated by the effects of climate change and ice ages. Cool maps in the front cover!"
—Mary Crooks, illustrator

The Curious Incident of the Dog in the Nighttime, by Mark Haddon. "Christopher John Francis Boone is a 15-year-old boy with autism, although he would describe himself as someone with 'behavioral difficulties.' Christopher's life is regimented and he likes it that way. A single father for many years, Ed Boone struggles with raising a child with these challenges on his own. So, when a dog turns up murdered in his neighborhood, Christopher needs to find out who has done this dastardly deed. His investigation leads him to venture outside of his regimented world and into places such as the big city of London."
—Elena Takaki, program manager (Chesapeake Bay FieldScope)

Lord of the Rings, by J.R.R. Tolkien. "In this fantasy book, the characters explore the many geographies of Tolkein's Middle Earth. I loved the various intricate descriptions of each of the different regions of Middle Earth and the epic storytelling throughout the series!"
—Chari Adames-Smith, intern (Geography Awareness Week)

Desert Solitaire: A Season in the Wilderness, by Edward Abbey. "Edward Abbey loves the desert. In his personal account of a season spent in Arches National Park as a park ranger, Abbey acts as a proponent of the environment, at once beautifully describing the wilderness around him and lamenting the development and commercialization of the landscapes around him. At times ranting, raving, impassioned, and beautiful, his personal accounts and narratives are never boring."
—Zach Michel, contractor

The Grassroots of a Green Revolution: Polling America on the Environment, by Deborah Lynn Guber. "This is an academic look at how Americans think and feel about the environment. It looks at changes in our values over time, who cares the most (and least), and to what extent our values are actually reflected when we vote, shop, etc."
—Anna Switzer, program manager (outdoor and experiential education)

Teaching a Stone to Talk, by Annie Dillard. "This modern-day transcendentalist explores her spirituality and human connections to the Earth by sharing her observations of the natural world. This collection of short stories is a wonderful book to use for meditation when exploring personal relationships with the wild."
—Julie Brown, specialist (ocean education)

The Grapes of Wrath, by John Steinbeck. "Dust Bowl conditions send a family packing up and heading west, looking for greener pastures. Human-induced environmental catastrophe at its finest!"
—Sean O'Connor, project manager (educational maps)

The Good Earth, by Pearl S. Buck. "Discover China! Pearl Buck introduced America to the traditions, culture, and daily life of early-twentieth-century rural China with this classic."
—Kara West, copy editor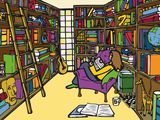 Join a Book Club
Book clubs are a great way to discover more about the books you love, the books you loathe, and if the book was really better than the movie. Some book clubs are focused on a particular type of book: science fiction, graphic novels, classics. Other book clubs are free-for-alls. Book clubs also offer insight into your own community and the people who live thereyou will not believe the characters in your own neighborhood.

Public libraries are usually an excellent source of information on local book clubs, and often host book club meetings themselves. Most book clubs are free, welcome new members, and meet about once a month.
Find Your Local Library
Public libraries are one of civilizations greatest resources. Find your local library. Talk to the librarians! They know media, and they know how to find what you're looking for.
academic
person or thing having to do with school, particularly college or university education.
fiction
media, such as books or films, that are imaginative and not true stories.
historical novel
work of fiction based on facts in history.
literature
written material, including novels, poetry, drama and history.
nonfiction
books, films, or other media that use facts and true stories.
novel
fictional narrative or story.