A hot surge is one with a slightly higher temperature, usually above 100° Celsius (212° Fahrenheit).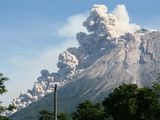 Sandblasting
"Pyroclastic flows may look like fluffy clouds, but they are more like sandblasting," says volcanologist Benjamin Andrews. Andrews simulates pyroclastic flows using baby powder, walnut shells, and glass beads. Lasers allow him to study the dust currents left by the simulated flows, which helps other volcanologists estimate the paths or behavior of pyroclastic flows.
advance
to move forward or progress.
layers of gases surrounding a planet or other celestial body.
large mass of snow and other material suddenly and quickly tumbling down a mountain.
boil
to change from a liquid to a gaseous state.
cast
impression formed when a liquid substance is poured into a form or mold, and then hardens into that shape.
city
large settlement with a high population density.
collapse
to fall apart completely.
composition
arrangement of the parts of a work or structure in relation to each other and to the whole.
contort
to distort or bend out of shape.
convection
transfer of heat by the movement of the heated parts of a liquid or gas.
crystal
type of mineral that is clear and, when viewed under a microscope, has a repeating pattern of atoms and molecules.
debris
remains of something broken or destroyed; waste, or garbage.
dense
having parts or molecules that are packed closely together.
number of things of one kind in a given area.
derive
to come from a specific source or origin.
dual
having to do with two of something.
eruption
release of material from an opening in the Earth's crust.
eruption column
cylinder-shaped structure of volcanic ash and gas emitted by an explosive volcanic eruption. Also called a volcanic plume.
explosion
violent outburst; rejection, usually of gases or fuel
extreme
unusual or extraordinary.
farmland
area used for agriculture.
fluid
material that is able to flow and change shape.
forest
ecosystem filled with trees and underbrush.
gas
state of matter with no fixed shape that will fill any container uniformly. Gas molecules are in constant, random motion.
geologist
person who studies the physical formations of the Earth.
geophysics
study of the Earth's physical properties and processes.
gravity
physical force by which objects attract, or pull toward, each other.
lahar
flow of mud and other wet material from a volcano.
body of water surrounded by land.
the geographic features of a region.
the fall of rocks, soil, and other materials from a mountain, hill, or slope.
lava dome
feature formed as lava hardens over a volcanic vent.
liquid
state of matter with no fixed shape and molecules that remain loosely bound with each other.
momentum
speed, direction, or velocity at which something moves.
large body of salt water that covers most of the Earth.
phenomena
(singular: phenomenon) any observable occurrence or feature.
plaster
paste-like material made of crushed stone (usually lime, gypsum, and sand), water, and fiber.
pumice
type of igneous rock with many pores.
pyroclastic fallout
particles that have been ejected from volcanic vents and have traveled through the atmosphere before falling to earth or into water.
current of volcanic ash, lava, and gas that flows from a volcano.
pyroclastic surge
fluid mass of gas and rock ejected during some explosive volcanic eruptions.
resident
person who lives in a specific place.
river bed
material at the bottom of a river.
river valley
depression in the earth caused by a river eroding the surrounding soil.
rock
natural substance composed of solid mineral matter.
scoria
type of rough, crusty volcanic rock.
shatter
to suddenly break into pieces.
snow
precipitation made of ice crystals.
spasm
to undergo a sudden, involuntary contraction of a muscle or group of muscles.
suspend
to keep from falling, sinking, or collecting.
degree of hotness or coldness measured by a thermometer with a numerical scale.
thrust
force exerted by a propeller, gas, or other mechanism that propels a vehicle.
vent
crack in the Earth's crust that spews hot gases and mineral-rich water.
vertical
up-down direction, or at a right angle to Earth and the horizon.
fragments of lava less than 2 millimeters across.
volcanic glass
hard, brittle substance produced by lava cooling very quickly.
an opening in the Earth's crust, through which lava, ash, and gases erupt, and also the cone built by eruptions.
volcano hazard
specific danger posed by an active volcano: gas, lahar, landslide, lava flow, pyroclastic flow, or tephra.
volcanologist
scientist who studies volcanoes.
volcanology
the study of volcanoes. Also called vulcanology.