In reality, critics had very little to argue about. Families like the Joads, or "Okies" as they were disparagingly referred to, faced awful living and working conditions throughout their migration, and even upon reaching California.
In the end, this engagement with the human experience is a hallmark of Steinbeck's work, and perhaps what keeps us talking about him today. Says Shillinglaw:
"Empathy is the signature of the book—an empathetic response to human suffering. So much of the dialogue today is about taking away food stamps or welfare, for example, and Steinbeck was a passionate voice for empathy."
While there are numerous climatic and social parallels between the Dust Bowl and California's contemporary drought, some of the most striking similarities are the economic costs. While Steinbeck captures the great struggle for migrants to find farm work in Depression-era California, according to Kauffman, today's drought may have an even larger economic impact.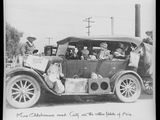 agricultural practice
method used to harvest crops or care for livestock.
the art and science of cultivating land for growing crops (farming) or raising livestock (ranching).
betray
to be disloyal to someone.
class
division in society based on income and type of employment.
connotation
additional meaning implied by a word or expression.
contemporary
having to do with the present time period.
context
set of facts having to do with a specific event or situation.
controversial
questionable or leading to argument.
disaster
terrible and damaging event.
period of greatly reduced precipitation.
droves
large, moving crowds of people.
Dust Bowl
(1930-1940) term for the Great Plains of the U.S. and Canada when severe dust storms forced thousands of people off their farms.
dust storm
weather pattern of wind blowing dust over large regions of land.
branch of biology that studies the relationship between living organisms and their environment.
economy
system of production, distribution, and consumption of goods and services.
Edenic
having to do with paradise, or a perfect place.
empathetic
identification with the feelings, thoughts, and attitudes of others.
encounter
to meet, especially unexpectedly.
engage
to become actively involved with something.
act in which earth is worn away, often by water, wind, or ice.
factor
element contributing to an event or outcome.
familiarize
to understand how something works or operates.
fiction
media, such as books or films, that are imaginative and not true stories.
frenzy
extreme agitation or excitement.
Great Depression
(1929-1941) period of very low economic activity in the U.S. and throughout the world.
Great Plains
grassland region of North America, between the Rocky Mountains and the Mississippi River.
greenhouse gas
gas in the atmosphere, such as carbon dioxide, methane, water vapor, and ozone, that absorbs solar heat reflected by the surface of the Earth, warming the atmosphere.
idealize
to represent something in its perfect form.
identity
how a person defines themselves, or how others define them.
ignorance
lack of knowledge or education about a subject.
illusion
plan or occurrence that creates a false belief.
industry
activity that produces goods and services.
the geographic features of a region.
loam
fertile soil rich in sand, silt, and smaller amounts of clay.
longevity
length or duration of a service, including usefulness or life itself.
metropolitan area
region surrounding a central city and has at least 15 percent of its residents working in the central city.
migrate
to move from one place or activity to another.
modification
partial change or alteration.
novel
fictional narrative or story.
pivotal
very important or crucial point.
produce
agricultural products such as vegetables and fruits.
profit
money earned after production costs and taxes are subtracted.
prolonged
taking more time than anticipated.
publication
communication that is shared with the public, usually in print or electronic format.
root
part of a plant that secures it in the soil, obtains water and nutrients, and often stores food made by leaves.
sentimental
very emotional, often evoking a memory.
sharecropper
farmer who pays a portion of his harvested crop as rent.
soil
top layer of the Earth's surface where plants can grow.
staggering
overwhelming or shocking.
symbolize
to represent an object, idea, organization, or geographical region.
topsoil
the most valuable, upper layer of soil, where most nutrients are found.
trek
journey, especially across difficult terrain.
unemployment
state of not having a job.
weather pattern
repeating or predictable changes in the Earth's atmosphere, such as winds, precipitation, and temperatures.