Donald Buraglio has a specific geographic feature that he enjoys while competing in ultramarathons—foot races longer than the 42 kilometer (26 mile, 385 yard) distance of a marathon.

"I love going uphill," he says. "I think it's just the idea of being able to do these insane climbs, then you get to the top and get views in all directions."

Buraglio, who lives in Carmel Valley, California, says he chooses which ultramarathons to enter by looking at the amount of climbing on the course, along with the type of technical terrain and the beauty of the region.

This explains why Buraglio has run in the Miwok 100K Trail Race, a 100-kilometer (62-mile) race in the hilly Marin Headlands of Northern California. The Miwok 100K features more than 3,000 meters (10,000 feet) of cumulative elevation gain. Buraglio has also run the Western States Endurance Run, a 161-kilometer (100-mile) event that passes through the steep Sierra Nevada mountains in California, from the ski town of Squaw Valley to the city of Auburn.

After choosing a race, Buraglio consults course maps, looking specifically at their elevation profiles. "That's so you know where a hill will be at what point in the race," he says.

Marathon Training

Once he chooses a race, the longtime endurance runner turns his attention to training. "I'm running every hill I can," he says.

Buraglio runs up to six times a week on the wildflower-dotted hills of Fort Ord and in Toro Park, close to his Carmel Valley home. Toro Park includes the 549-meter (1,800-foot) Ollason Peak, which helps him train for elevation and climbing. Finding similar terrain helps Buraglio anticipate the demands of the race courses.

"[Ollason Peak] is actually real similar to the Northern California races like Miwok and the Western States," he says of the terrain. "The hills aren't the same height, but the steepness of them is similar."

Fort Ord, which was home to a U.S. Army base from 1917 to 1994, is a particularly good area for Buraglio to train for ultramarathons. "There's 85 miles of trails you can use," he says. "I can run for five or six hours out here and not run on the same trail twice."

On longer training runs, Buraglio brings a GPS receiver. "I pretty much use it to figure out how far I run," he says.

Buraglio says that while training, he doesn't try to run the full distance of the race on one particular day. Instead, he tries to attain the distance over a weeklong period.

"You can train up to a certain point," he says. "Then you have to go for it on race day."

Longer ultramarathons, including the Western States Endurance Run, often take more than 20 hours to complete. This means most competitors run through the night. Buraglio trains for these segments of the race before dawn. "A lot of times, I'm out there in the morning before the sun comes up," he says. "We run with headlamps . . . a lot."

Endurance Athlete

Buraglio entered his first ultramarathon, the Carmel Valley Trail Run 50K, in 2003 after his success completing the Big Sur International Marathon and the Vineman Ironman Triathlon. (This triathlon includes not only a marathon, but a 3.86-kilometer (2.4-mile) swim and a 180.25-kilometer (112-mile) bike race.)

"I had done a lot of endurance sports," he says. "I found that I enjoyed the increasing distance of the events." 

But the race proved to be a true challenge for Buraglio. "I went too fast and raced it like I would a marathon," he says.

Once he completed the race, Buraglio got into his car and prepared to drive home, but he suffered from exhaustion. He ended up napping in his vehicle for an hour.

As his soreness began to melt away, Buraglio had a revelation: "I liked putting my body through that and recovering from it."

Besides that first ultramarathon, one of the biggest challenges Buraglio has had to overcome occurred at the 2009 Western States Endurance Run. Eighty kilometers (50 miles) into the race, his body rebelled. He could no longer take in any calories—sports drinks, juice, or food—without throwing up. He wasn't able to digest food (energy gels and potato chips) for 10 hours.

"Your digestive system sometimes shuts down in experiences like that," he says.

Buraglio continues to pursue races that feature hills and steep slopes. He hopes to compete in events like Angeles Crest 100-Mile Endurance Run in the Angeles National Forest in California, and the Wasatch Front 100 Mile Endurance Run, which winds through Utah's Wasatch Mountains.

"There are a lot of wonderful ultras out there," he says, "in places I've never been."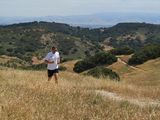 Up and Away
One of the world's most popular ultramarathons is the Badwater Ultramarathon, a 217-kilometer (135-mile) race. The Badwater Ultramarathon goes from Death Valley, California, at 86 meters (280 feet) below sea level, up to the hills of Mount Whitney, at 2,530 meters (8,300 feet).
Moccasin Man
Donald Buraglio wears moccasins rather than traditional running shoes in ultramarathons. For me, the bigger attraction is theres a natural, native feel to it, he says.
calorie
unit of energy from food, equal to the amount of heat required to raise the temperature of one kilogram of water by one degree Celsius.
cumulative
growing in quantity or strength.
digest
to convert food into nutrients that can be absorbed.
digestive tract
the stomach and the intestines, organs in the digestive system responsible for breaking down food into nutrients and waste products. Also called the gastrointestinal or GI tract.
distance
measurable space between two or more objects.
height above or below sea level.
endurance
ability to accept and deal with hardship.
exhaustion
extreme weakness and fatigue.
geographic
having to do with places and the relationships between people and their environments.
GPS receiver
device that gets radio signals from satellites in orbit above Earth in order to calculate a precise location.
headland
point of land, usually a steep cliff, that descends into a body of water.
land that rises above its surroundings and has a rounded summit, usually less than 300 meters (1,000 feet).
symbolic representation of selected characteristics of a place, usually drawn on a flat surface.
marathon
42.195 kilometer (26 mile, 385 yard) foot race.
rebel
person who resists the authority of government.
revelation
something that is revealed, often in a surprising manner.
slope
slant, either upward or downward, from a straight or flat path.
steep
extreme incline or decline.
terrain
topographic features of an area.
triathlon
endurance sport involving any three athletic events performed in a rowusually swimming, bicycling, and running.
ultramarathon
any foot race longer than a typical marathon (26 miles, 385 yards).