Globalization connects different parts of the world. People, ideas, knowledge and goods move around more easily. People start having more in common.
Globalization In History
Globalization has a long history. Thousands of years ago, ancient Greek culture spread across Asia, Africa and Europe. They built towns in new continents so they could buy and sell more goods.
Another example is the Silk Road. This was an ancient trade route between China and Europe. It carried ideas and knowledge, along with goods like silk and spices.
In time, Europeans began setting up colonies in other countries. They took control of those countries and brought goods across the world. Globalization grew more and more. Many early European explorers also brought the Christian religion to new areas.
Globalization sped up 200 years ago. This period was called the Industrial Revolution. During the Industrial Revolution, farmers moved to the city to work in factories. Many companies used materials, like metal, from distant lands. They also sold their goods in other countries.
Globalization sped up even more 100 years ago. One of the reasons was the Internet.
Globalization depends very much on how people communicate. Knowledge zips around the world on the Internet. People can read news about other countries as easily as they read about their hometowns.
Many people in the world also use cellphones. A farmer in Nigeria can talk to his cousin in New York City, New York. Nigeria is a country in Africa.
Being able to travel around the world also created more globalization. Each year, millions of people move from one country to another in order to find better jobs.
People do not travel just for work, of course. Millions of people take vacations in other countries.
Travelers are able to learn about new ideas, goods and services. In this way, globalization affects trade, tastes and culture.
Popular culture has also become more globalized. People in the United States like listening to South African music. They read Japanese comic books. American soap operas are popular in Israel.
People eat more foods from other countries. People in England eat Indian curry. People in Peru enjoy Japanese sushi. Meanwhile, American fast-food chains are common around the world. McDonald's has restaurants in more than 100 countries. People all across the world are eating more fast food, which is both meaty and sugary.
Globalization helps companies sell goods to other countries. American companies, like Microsoft, Apple and Google, make a lot of money from people around the world. Meanwhile, Saudi Arabia, a country in the Middle East, sells oil to many other countries.
Most large companies have offices all around the world. Many of them have moved factories to poorer countries. This is called outsourcing. The company can pay less money to workers in poor countries. It also makes more money and foods might cost less.
People and organizations are connected to companies around the world. Because of this, if a big important company is in trouble, then the rest of the world is in trouble, too. This is called a financial crisis.
Politics
Globalization can also be a good thing. Many countries around the world face the same problems. They must work together to solve them. For example, countries are joining together to deal with climate change. The earth is heating up because of gases from cars and factories.
Through globalization, people can also get medicines that don't exist in their country. The new jobs that globalization brings have stopped many people from being poor.
But not everyone says that globalization is good. Some people worry that American culture will destroy local cultures around the world. They fear that everyone will end up eating hamburgers and watching Hollywood movies.
Many also blame globalization for being bad for workers. Even if they get jobs, those jobs might not be very good. On top of this, when companies move from rich countries to poor ones, they take away jobs from the rich countries.
Still, people say that factory workers are better off with globalization. At least they have a job that makes them less poor. They also say that globalization has made goods cheaper. Rich countries don't have to spend as much money to buy things, which means they're better off, too.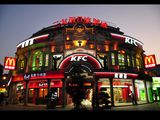 accelerate
to increase speed or velocity.
(356-323 BCE) Greek ruler, explorer, and conqueror.
Battle in Seattle
(1999) protest of the 1999 meeting of the World Trade Organization in Seattle, Wash.
Bollywood
mainstream Indian film industry.
natural or artificial line separating two pieces of land.
cell phone
device that uses radio signals to transmit and receive voice and other data.
chili pepper
plant native to the Americas whose fruit and seeds are cultivated for food and spice.
Christian
people and culture focused on the teachings of Jesus and his followers.
Christopher Columbus
(1446-1506) Italian navigator.
complex way of life that developed as humans began to develop urban settlements.
gradual changes in all the interconnected weather elements on our planet.
colony
people and land separated by distance or culture from the government that controls them.
communication
sharing of information and ideas.
confront
to address a problem or person directly.
controversial
questionable or leading to argument.
corporation
business made up of a group of stockholders, or people who own interest in the business.
costume
traditional clothing of a region or country.
cotton
cloth made from fibers of the cotton plant.
curry
food associated with India that features spicy sauces, vegetables and sometimes meat.
drug trafficking
buying, selling and transporting of illegal drugs.
economic downturn
part of the business cycle when the exchange of goods and services slows down. Also called a recession.
economy
system of production, distribution, and consumption of goods and services.
establish
to form or officially organize.
export
good or service traded to another area.
facility
a building or room that serves a specific function.
factory
one or more buildings used for the manufacture of a product.
fiber-optic
having to do with the transmission of light through transparent fibers.
fiery
burning or having to do with heat.
financial crisis
situation where banks, credit unions, and other institutions suddenly lose much of their value.
finished good
item assembled and ready for sale.
free trade
international exchange of goods and services without taxes or other fees.
connection of different parts of the world resulting in the expansion of international cultural, economic, and political activities.
HSBC
(HSBC Holdings plc) one of the largest banks in the world.
immigration
process of moving to a new country or region with the intention of staying and living there.
import
good traded from another area.
Industrial Revolution
change in economic and social activities, beginning in the 18th century, brought by the replacement of hand tools with machinery and mass production.
Information Age
nickname for the current era of humanity, starting with widespread public access to the internet (the World Wide Web) in the early 1990s. Also called the Computer Age.
International Criminal Court
organization that tries people accused of war crimes, crimes against humanity, and genocide.
Internet
vast, worldwide system of linked computers and computer networks.
labor force
workers or people who are physically and legally able to work. Also called the workforce.
Latin America
South America, Central America, the Caribbean, and Mexico.
Madras
type of light cotton cloth. Madras is also the former name of the city of Chennai, India.
market
central place for the sale of goods.
McDonald's
largest restaurant chain in the world.
merchant
person who sells goods and services.
migrant
person who regularly moves from place to place, usually in search of work.
mill
machine used for grinding or crushing various materials.
natural disaster
an event occurring naturally that has large-scale effects on the environment and people, such as a volcano, earthquake, or hurricane.
network
series of links along which movement or communication can take place.
North American Free Trade Agreement (NAFTA)
(1994) treaty between the United States, Canada, and Mexico that reduced tariffs and made trade easier between the countries.
oil
fossil fuel formed from the remains of marine plants and animals. Also known as petroleum or crude oil.
outsourcing
process of moving jobs and factories to developing countries in order to lower costs.
pasta
dough rolled or made into shapes and then boiled.
popular culture
goods, services, ideas, and patterns of their use in a population.
place on a body of water where ships can tie up or dock and load and unload cargo.
poverty
status of having very little money or material goods.
profit
money earned after production costs and taxes are subtracted.
proliferation
very rapid growth or increase in production.
raw material
matter that needs to be processed into a product to use or sell.
religion
a system of spiritual or supernatural belief.
ancient trade route through Central Asia linking China and the Mediterranean Sea.
software
electronic programs of code that tell computers what to do.
standard of living
amount of goods and services a person in a specific community or geographic area is able to afford.
sushi
bite-sized rolls or balls of sticky rice topped with seafood or vegetables.
tariff
tax imposed on imports or exports.
tax
money or goods citizens provide to government in return for public services such as military protection.
terrorism
use of violence and threats of violence to influence political decisions.
thrive
to develop and be successful.
tourist
person who travels for pleasure.
trade
buying, selling, or exchanging of goods and services.
trade route
path followed by merchants or explorers to exchange goods and services.
travel
movement from one place to another.
wage
money paid to a person for providing goods or services.
World Trade Organization (WTO)
group that works with governments and international organizations to regulate trade and resolve trade disputes between countries.