Links
website
At the 2009 Esri International User Conference, Jack Dangermond, president of Esri, announced the GeoMentor Program during the plenary. This exciting collaboration between Esri and the National Geographic Society is designed to get more GIS professionals involved in education. The program helps GIS professionals find schools and other settings where they can serve as GeoMentors to the students.

There are lots of ways that GeoMentors can help educators, and the GeoMentor Web site provides a matchmaking service to help educators find GeoMentors that are well-suited to their needs and setting. The Web site allows GeoMentors and educators to seek out an appropriate partner and provides a safe channel through which to initiate contact. The site offers many ideas for projects that teachers and GeoMentors can work on together and tips for how to collaborate successfully.

In the past year, many lives have been changed by GeoMentors, so I asked Charlie Fitzpatrick, Esri K-12 education manager and leader of the GeoMentor initiative for Esri, to share some stories from these volunteers and the educators they've worked with. At a time when so much of the media coverage about education focuses on the challenges and failures, these stories show us what is possible and offer us hope.

Charlie reports that some educators have needed on-site assistance with getting software installed, convincing the guardians of computer labs that GIS activities are a legitimate use of computers, or simply showing how to work through basic activities.

One elementary school teacher told Charlie, "It's just priceless having [the mentor] here. She was really persistent in helping us overcome the technical hurdles from our system, just installing through the permissions we have. Then, once it was installed, the kids are so fast with computers, they go beyond me quickly and I can't always help them. She came in and wrote down some procedures to help us do our work. The kids know how to do things, but when they get stuck, they go back to the sheets and figure out how to move forward. I couldn't have done this project without her."While some educators keep a mentor all to themselves, others encourage them to work directly with students. One longtime mentor who worked with an individual student wrote, "I don't do stuff like that for the publicity but for the individuals involved. I'm happy to report that the student I e-mentored made it to college, where he's pursuing his dream of becoming an architect! That's satisfaction enough for me."

The most surprising thing Charlie told me is how much impact a mentor can have with a relatively small commitment of time. One mentor told Charlie, "I go visit the school once a month, and now when I arrive, the teacher has a couple questions and the kids have some specific questions—they write these down on a page ahead of time—and we spend the whole time just running through their questions. Sometimes it's 'Where do I find data about my subject?' Other times, they ask something where all I say is, 'Look in the help file about the word X,' and they're off and running, just because they couldn't figure out the specific word to search under, like 'mosaic.' Sometimes, they can't wait and will ask me that by e-mail, and I just need to send back a single sentence to get them on track."

These stories have us convinced that we're on the right track with the GeoMentor Program. We were delighted with the outpouring of interest we received at last year's Esri User Conference, and we've continued to build up the numbers of registered mentors and educators throughout the year. We are still learning lessons about how to help educators and mentors find the right match and what resources we can offer to help them get their collaborations under way. We expect to continue to expand and improve the GeoMentor Web site for some time to come.

In the face of all the challenges of creating a new program, though, we continue to be driven by the clear need for programs like this one. As one club leader recently told Charlie, "Yes, there are lots of clubs, and they are doing some cool things, but if we had more adult volunteers, we could easily engage three times as many kids. That's the same everywhere. What we need most is helpers."

The goal of the GeoMentor Program is to recruit more of these helpers and connect them to educators who can use their help. If this appeals to you, then please visit the GeoMentor Web site for ideas and inspiration and to seek out an educator who would like your assistance. It's easy to make a difference, and the rewards are unparalleled.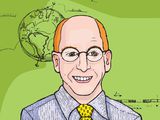 any system for capturing, storing, checking, and displaying data related to positions on the Earth's surface.
geo-literacy
the understanding of human and natural systems, geographic reasoning, and systematic decision-making.
software
electronic programs of code that tell computers what to do.