What do you think of when you hear the word literacy? Depending on what you teach, chances are geography is not the first thought that comes to mind. But believe it or not, geography and literacy naturally share many similarities. And you can deepen students' learning in both geography and literacy when they are integrated in the curriculum.
The Common Core State Standards in English Language Arts represent a significant change in literacy requirements, including a new emphasis on teaching literacy skills in and through history/social studies, science, and technical content areas. The end goal of the Common Core State Standards is to make students stronger critical thinkers who are better prepared for college and career success in the 21st century.
Do you know what the goal of teaching geography is? This may sound familiar . . . geography is about preparing people to make the important individual and collective decisions we will all face in the 21st century. At National Geographic, we call the ability to make these decisions geographic literacy, or geo-literacy.
In addition to shared goals, geography and literacy education both focus on these outcomes:
strengthening and building vocabulary
reinforcement of reading and writing strategies
practical application of comprehension skills
supplying nonfiction reading and writing topics
To understand the powerful connection between geography and literacy even more, we can do two things: redefine text and use a common vocabulary.
Redefining Text
The Common Core State Standards in English Language Arts emphasize an increased focus on informational text and text complexity, and in building the skills with which students read complex text—their ability to read and comprehend the kinds of complex texts commonly found in college and careers.
But what is text, exactly?
If we limit text to mean only the written word, how will we reach that shared Common Core and geography goal of preparing students to prosper in the 21st century? And how can students be expected to understand real-world reading, such as maps, or media-rich blog posts like the ones on this website?
We need a broader interpretation of text in order to meet the needs of students to understand their world. Research shows that the more complex the text, the more a reader will rely on visual representations. Geography already uses a more well-rounded and comprehensive definition of text. In geography, text includes maps, diagrams and other pictures (static or animated), graphics, charts and graphs, and geo-spatial representations of information. View the Redefining Text photo gallery in the media carousel to see examples of the variety of these representations.
Consider how much richer the implementation of the Common Core State Standards can be with this broadened interpretation of text. And if we go a step further and use a common vocabulary, you can begin to see even more connections between geography and literacy.
Using a Common Vocabulary
To be literate in the 21st century means knowing more than the basic skills of reading and writing. Students must be thinkers, creators, authors, and transmitters of ideas. Think about the daily avalanche of information on the web, television, advertising, and a multitude of mobile devices. Students today need to acquire, analyze, and process information for decision-making like no other generation before them. Are they ready?
To analyze and synthesize information, students need the ability to transfer understanding between the disciplines; they need a common vocabulary.
View the Common Vocabulary chart in the media carousel to see a comparison of the Geography for Life standards to the elements of fiction. This chart illustrates how a common vocabulary can help students with transfer.
You can also use geography to strengthen students' understanding of the text features of nonfiction. View the Nonfiction Text Features chart in the media carousel to see geographic examples of nonfiction text features. This chart shows just a fraction of the possibilities.
No matter what you teach, do you see all the possibilities for using this in your educational practice?
This article first appeared in the National Geographic Education blog and was adapted from the guide, Common Core English Language Arts and Geography Connections. Read the full guide to find out more about the geography and literacy connection.
Be sure to also visit our National Geographic and the Common Core collection, which includes collections for K-12 of rich, informational text for students and supporting resources for teachers.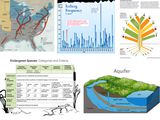 critical thinking
process of analyzing and evaluating the truth and worth of a concept.
study of places and the relationships between people and their environments.
geo-literacy
the understanding of human and natural systems, geographic reasoning, and systematic decision-making.
geospatial
having to do with geography and location.
literacy
ability to read and write.