The National Geographic Society recognizes explorers from traditional and emerging fields through three programs—Explorers-in-Residence, Emerging Explorers, and Fellows—that bring you exciting new discoveries direct from the field.

Explorers recommend fiction and non-fiction books for children, young adults, and students.

Children ages 4-8

Everybody Poops, by Taro Gomi and Amanda Mayer Stinchecum
—Sasha Kramer, ecologist, Emerging Explorer and Blackstone Innovation Challenge Grantee

Children ages 9-12

The Phantom Tollbooth, by Norton Juster. "That was a foundational book for me as a kid. It's a great metaphor for exploration in our own world and understanding different cultures. We need to be able to understand other cultures and respect them, but also ask the right questions so we can come into our own world."
—Sarah Parcak, archaeologist, Egyptologist, and Emerging Explorer

Touch the Sky, by Barrington Irving. "It's a book I did with Scholastic and it is supposed to come out pretty soon, it's about some of my stories."
—Barrington Irving, pilot, educator, and Emerging Explorer

National Geographic Kids Everything Big Cats: Pictures to Purr About and Info to Make You Roar!, by Elizabeth Carney.
—Dereck and Beverly Joubert, filmmakers, conservationists, and Explorers-in-Residence

Students

Seven Miles Down, by Jacques Piccard. "If people are interested in [underwater exploration and the DEEPSEA CHALLENGE], this is a good book to read. It was written right after their dive in 1960."
—James Cameron, filmmaker, inventor, and Explorer-in-Residence

The Times Atlas of the World, by Times Books Limited. "An atlas is a book of dreams. You can dream about where you want to go, what you want to do, and the adventures you want to go on."
—Daniel Raven-Ellison, guerrilla geographer and Emerging Explorer

Deer and the Tiger, by George B. Schaller. "Any Indian conservationist has read this book and it has influenced a whole generation of Indians to get into wildlife and conservation. It's an old book, but it is a fabulous book."
—Krithi Karanth, conservation biologist and Emerging Explorer

The Alchemist, by Paulo Coelho. "It's a great book because it is about journeys, crossing countries, and different explorations."
—Patrick Meier, crisis mapper and Emerging Explorer

Life on Earth, by David Attenborough. "It takes you through the story of evolution and introduced me to this incredible world of animals out there that I had no idea existed or the path to their existence."
—Lucy Cooke, zoologist, filmmaker, and Emerging Explorer

A Short History of Nearly Everything, by Bill Bryson. "It is awesome, it just makes everything in science accessible and he is such a great writer."
—Jeffrey Rose, archaeologist and Emerging Explorer

Side by Side, by Sami Adwan, Dan Bar-On, Eyal Naveh and Peace Research Institute in the Middle East. "Really, I'd recommend any book by Sami Adwan."
—Aziz Abu Sarah, cultural educator and Emerging Explorer

Guns, Germs, and Steel: The Fates of Human Societies, by Jared Diamond. "For teens and young adults, I'd recommend most books by Jared Diamond."
—Fredrik Hiebert, archaeologist and Fellow

At Play in the Fields of the Lord, by Peter Matthiessen.
—Johan Reinhard, anthropologist and Explorer-in-Residence

The Last Speakers: The Quest to Save the World's Most Endangered Languages, by K. David Harrison.
—David Harrison, linguist and Fellow

My Family and Other Animals, by Gerald Durrell.
—Enric Sala, marine ecologist and Explorer-in-Residence

The Human, The Orchid, and the Octopus: Exploring and Conserving Our Natural World, by Jacques Cousteau and Susan Schiefelbein.
—Alexandra Cousteau, social environmental advocate and Emerging Explorer


Genghis Khan and the Making of the Modern World, by Jack Weatherford.
—Albert Lin, research scientist, engineer, and Emerging Explorer

Collapse: How Societies Choose to Fail or Succeed, by Jared Diamond.
—Jose Urteaga, marine biologist, conservationist, and Emerging Explorer

The Universe Below: Discovering the Secrets of the Deep Sea, by William J. Broad.
—Katy Croff Bell, archaeological oceanographer, and Emerging Explorer

The Last Oasis: Facing Water Scarcity, by Sandra Postel.
—Osvel Huerta, conservationist and Emerging Explorer

Bonk: The Curious Coupling of Science and Sex, by Mary Roach.
—Jorn Hurum, paleontologist and Emerging Explorer

Conservation Biology for All, by Cagan Sekercioglu
—Cagan Sekercioglu, ornithologist, conservationist, and Emerging Explorer

The Demon-Haunted World: Science as a Candle in the Dark, by Carl Sagan and Ann Druyan.
—Kevin Hand, planetary scientist, astrobiologist and Emerging Explorer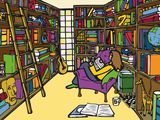 Join a Book Club
Book clubs are a great way to discover more about the books you love, the books you loathe, and if the book was really better than the movie. Some book clubs are focused on a particular type of book: science fiction, graphic novels, classics. Other book clubs are free-for-alls. Book clubs also offer insight into your own community and the people who live thereyou will not believe the characters in your own neighborhood.

Public libraries are usually an excellent source of information on local book clubs, and often host book club meetings themselves. Most book clubs are free, welcome new members, and meet about once a month.
Find Your Local Library
Public libraries are one of civilizations greatest resources. Find your local library. Talk to the librarians! They know media, and they know how to find what you're looking for.
Emerging Explorer
an adventurer, scientist, innovator, or storyteller recognized by National Geographic for their visionary work while still early in their careers.
explorer
person who studies unknown areas.
Explorer-in-Residence
pre-eminent explorers and scientists collaborating with the National Geographic Society to make groundbreaking discoveries that generate critical scientific information, conservation-related initiatives and compelling stories.
National Geographic Fellow
experts who provide the National Geographic Society with consultation on projects, education and outreach, and environmental and public policy.
National Geographic Society
(1888) organization whose mission is "Inspiring people to care about the planet."