Elizabeth S. Scordato earned an undergraduate degree in biology from North Carolina's Duke University in 2004. After graduation she continued to work with one of her professors in the biology department, Christine M. Drea. Their project investigated the scent-marking behavior of the ring-tailed lemur. Her first academic paper, coauthored with Drea, was published in 2007 in the journal Animal Behaviour. Animal species, especially mammals, communicate with one another through olfactory (smell) cues. Scordato and Drea showed that ring-tailed lemurs could identify one another via specific scent signatures produced by males and females.

Scordato went on to earn a Ph.D. in evolutionary biology from the University of Chicago, working with Trevor Price. She traveled to the Indian Himalayas, Kyrgyzstan, and Siberia to study a species of bird called the greenish warbler (Phylloscopus trochiloides). Greenish warblers are interesting to evolutionary biologists because they are in the process of splitting into new species. This process is called speciation. By tracking individual birds, recording their songs, and conducting behavioral experiments, Scordato was able to show that differences in mating behavior in different habitats leads to divergence between greenish warbler populations. This is an early step in the speciation process.

In 2012, Scordato began working on a postdoctoral project at the University of Colorado at Boulder with Rebecca Safran. She traveled across Asia catching barn swallows (Hirundo rustica), a common species of bird that, like greenish warblers, is at the early stages of speciation. Barn swallows show wide variation across their geographical ranges. By analyzing the genetics of thousands of barn swallows, Scordato and her colleagues showed that differences in feather color and migratory behavior keep different populations from breeding with one another. This is another key step toward the formation of new species.

In 2018, Scordato joined the faculty of California State Polytechnic University in Pomona, California. There, she is an assistant professor in the Biological Sciences Department and heads her own laboratory. Her first major project in the Scordato Lab involves the Pacific swallow (Hirundo tahitica). Like the barn swallow, the Pacific swallow has shown a remarkable ability to adapt to changes in its environment. In particular, Pacific swallows build their nests on manmade structures, such as bridges and piers, which has enabled them to thrive around human settlements. Scordato is now studying how the spread of human settlements and structures throughout Southeast Asia and Oceania has shaped the genetic evolution of Pacific swallows.

Scordato has traveled all over the world studying birds. One of the most important parts of her work is finding collaborators in different countries. She has been lucky to work with researchers and students in 11 different countries, including Fiji, Malaysia, Mongolia, and Sri Lanka. Working with these collaborators is an exciting opportunity to learn about different cultures and exchange ideas. Scordato has found that some of the best scientific insights come from talking to people with different perspectives and experiences.

Traveling around the world to study birds is an adventure, but it is also hard work. Scordato's fieldwork usually involves catching birds in nets called mist nets, and then carefully collecting measurements, photos, and blood samples. An aluminum ring with unique numbers on it is then placed around each bird's leg, so it can be identified later. Catching birds can be challenging: Swallows have excellent eyesight, and are good at avoiding nets. Scordato and her collaborators often have to get creative by hiding nets in places swallows won't see them, or catching birds at night while they are sleeping. This means lots of long days and sleepless nights, but Scordato wouldn't change anything about her field research.

"Once, when I was leaving for a strenuous field season in India, my mother asked me 'Why can't you ever do anything the easy way?'" Scordato wrote. "I told her the reward for doing something the hard way is well worth the struggle: you get the thrill of learning something new about the natural world that no one has ever understood before, and you also know that you really earned that discovery."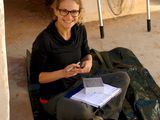 adapt
to adjust to new surroundings or a new situation.
behavior
anything an organism does involving action or response to stimulation.
branch of biology that studies the relationship between living organisms and their environment.
environment
conditions that surround and influence an organism or community.
evolutionary biologist
person who studies the origin and adaptations of species.
modification
partial change or alteration.
specimen
individual organism that is a typical example of its classification.
vertebrae
(singular: vertebra) bones that make up the spinal column, or backbone, of an animal.