Put simply, globalization is the connection of different parts of the world. In economics, globalization can be defined as the process in which businesses, organizations, and countries begin operating on an international scale. Globalization is most often used in an economic context, but it also affects and is affected by politics and culture. In general, globalization has been shown to increase the standard of living in developing countries, but some analysts warn that globalization can have a negative effect on local or emerging economies and individual workers.

A Historical View

Globalization is not new. Since the start of civilization, people have traded goods with their neighbors. As cultures advanced, they were able to travel farther afield to trade their own goods for desirable products found elsewhere. The Silk Road, an ancient network of trade routes used between Europe, North Africa, East Africa, Central Asia, South Asia, and the Far East, is an example of early globalization. For more than 1,500 years, Europeans traded glass and manufactured goods for Chinese silk and spices, contributing to a global economy in which both Europe and Asia became accustomed to goods from far away. Following the European exploration of the New World, globalization occurred on a grand scale; the widespread transfer of plants, animals, foods, cultures, and ideas became known as the Columbian Exchange. The Triangular Trade network in which ships carried manufactured goods from Europe to Africa, enslaved Africans to the Americas, and raw materials back to Europe is another example of globalization. The resulting spread of slavery demonstrates that globalization can hurt people just as easily as it can connect people.

The rate of globalization has increased in recent years, a result of rapid advancements in communication and transportation. Advances in communication enable businesses to identify opportunities for investment. At the same time, innovations in information technology enable immediate communication and the rapid transfer of financial assets across national borders. Improved fiscal policies within countries and international trade agreements between them also facilitate globalization. Political and economic stability facilitate globalization as well. The relative instability of many African nations is cited by experts as one of the reasons why Africa has not benefited from globalization as much as countries in Asia and Latin America.

Benefits of Globalization

Globalization provides businesses with a competitive advantage by allowing them to source raw materials where they are inexpensive. Globalization also gives organizations the opportunity to take advantage of lower labor costs in developing countries, while leveraging the technical expertise and experience of more developed economies.

With globalization, different parts of a product may be made in different regions of the world. Globalization has long been used by the automotive industry, for instance, where different parts of a car may be manufactured in different countries. Businesses in several different countries may be involved in producing even seemingly simple products such as cotton T-shirts.

Globalization affects services too. Many businesses located in the United States have outsourced their call centers or information technology services to companies in India. As part of the North American Free Trade Agreement (NAFTA), U.S. automobile companies relocated their operations to Mexico, where labor costs are lower. The result is more jobs in countries where jobs are needed, which can have a positive effect on the national economy and result in a higher standard of living. China is a prime example of a country that has benefited immensely from globalization. Another example is Vietnam, where globalization has contributed to an increase in the prices for rice, lifting many poor rice farmers out of poverty. As the standard of living increased, more children of poor families left work and attended school.

Consumers benefit too. In general, globalization decreases the cost of manufacturing. This means that companies can offer goods at a lower price to consumers. The average cost of goods is a key aspect that contributes to increases in the standard of living. Consumers also have access to a wider variety of goods. In some cases, this may contribute to improved health by enabling a more varied and healthier diet; in others, it is blamed for increases in unhealthy food consumption and diabetes.

Downsides

Not everything about globalization is beneficial. Any change has winners and losers, and the people living in communities that had been dependent on jobs outsourced elsewhere often suffer. Effectively, this means that workers in the developed world must compete with lower-cost markets for jobs; unions and workers may be unable to defend against the threat of corporations that offer the alternative between lower pay or losing jobs to a supplier in a less expensive labor market.

The situation is more complex in the developing world, where economies are undergoing rapid change. Indeed, the working conditions of people at some points in the supply chain are deplorable. The garment industry in Bangladesh, for instance, employs an estimated four million people, but the average worker earns less in a month than a U.S. worker earns in a day. In 2013, a textile factory building collapsed, killing more than 1,100 workers. Critics also suggest that employment opportunities for children in poor countries may increase negative impacts of child labor and lure children of poor families away from school. In general, critics blame the pressures of globalization for encouraging an environment that exploits workers in countries that do not offer sufficient protections.

Studies also suggest that globalization may contribute to income disparity and inequality between the more educated and less educated members of a society. This means that unskilled workers may be affected by declining wages, which are under constant pressure from globalization.

Into the Future

Regardless of the downsides, globalization is here to stay. The result is a smaller, more connected world. Socially, globalization has facilitated the exchange of ideas and cultures, contributing to a world view in which people are more open and tolerant of one another.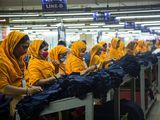 consumer
person who uses a good or service.
income disparity
difference between rich and poor, or between the wages thereof
industry
activity that produces goods and services.
information technology
development and maintenance of computer software and hardware systems.
manufacturing
production of goods or products in a factory.
outsource
obtain goods or services from an outside supplier, often from another country.
producer
person or organization that creates (produces) goods and services.
raw material
matter that needs to be processed into a product to use or sell.
standard of living
amount of goods and services a person in a specific community or geographic area is able to afford.
unskilled labor
segment of the workforce that has little education and lacks skills for a specific job or industry