With its sand castle spires in the background, Tony Baxter reveals the unexpected inspiration behind one of Disneyland's most beloved rides, Big Thunder Mountain Railroad.

Baxter, Walt Disney Imagineering's Senior Vice President of Creative Development, knew he needed to base the roller coaster on an Old West theme. The Magic Kingdom, Disneyland's younger sibling in Florida, was developing a ride using the landscape of Utah's Monument Valley.

"I went to National Geographic [Magazine], as we always do, to look for something else," he says. "And I found a feature article on Bryce Canyon in Utah."

What he found within the piece—which might have been William Belknap Jr.'s 1958 article "Nature Carves Fantasies in Bryce Canyon" or Ralph Gray's 1964 article "Sea to Shining Mountains"—was a fanciful national park that seemed to be a perfect model for the ride he was designing as Disneyland's Chief Designer in the late 1970s.

"The first paragraph of that article says, 'When you come upon Bryce Canyon, you are going to be astounded to find something that looks like it was created by Walt Disney,'" Baxter says. "Then it went on to talk about the fairy-tale like structures and all of that. So I said, 'Well, I have found our solution for the charming, Disneyland version of Big Thunder Mountain.'"

After discovering the article in National Geographic, Baxter took a field trip to Bryce Canyon with a small team of Disney employees. Most of these employees were Imagineers. Walt Disney Imagineering is the department for engineers and designers at The Walt Disney Company. Imagineers plan, design and oversee construction of all attractions at all Disney theme parks.

Baxter and the fellow Imagineers were struck by Bryce Canyon's hoodoos. Hoodoos are tall, thin columns of rock carved by thousands of years of erosion. The hundreds of hoodoos in Bryce Canyon are sometimes only separated by several feet.

"I remember imagining what it would be like being on a train going through some of those narrow passages," he recalls. "It was very inspirational."

Jungle Cruise

Walking around Disneyland with Baxter and Walt Disney Imagineering's Principal Landscape Architect Julie Bush, it's easy to see how other sections of the park were based on actual geographic regions. One of the most striking examples is the Jungle Cruise, where a riverboat passes through areas modeled after Southeast Asia's Irrawaddy River, Africa's Nile River, South America's Amazon River, and India's Ganges River.

"We compressed the globe into a nine-minute ride," Baxter says as our boat heads into a realistic jungle.

Harper Goff, a frequent Disney collaborator who was the art director on films like 1954's 20,000 Leagues Under the Sea and 1971's Willy Wonka and the Chocolate Factory, designed the Jungle Cruise. The ride debuted at Disneyland's July 18, 1955, opening. It was based on a series of short nature movies titled Walt Disney's True-Life Adventures.

In addition to True-Life Adventures, Baxter says Goff also drew inspiration from his work as set designer on the 1951 movie The African Queen. The film, which starred Humphrey Bogart and Katharine Hepburn, took place on a boat navigating rivers in what is today Burundi, Rwanda, and Tanzania.

Flora of Disneyland

As the Jungle Cruise boat passes by groups of mechanical animals, including a troop of gorillas and a pod of hippos, Bush points out the vegetation Disneyland uses to evoke different river environments throughout the world. In the portion based on the Amazon rain forest, we pass spidery tillandsia, a species of plant native to Central and South America. In the Asian-inspired region, the exposed roots of a ficus, native to Southeast Asia and Australia, seem to claw into the dirt like fingers.

Baxter admits that Disneyland sometimes diverges from strictly imitating real-world geography.

"It's more like an artist would paint a painting," he says of using plants and geographic features around the park. "It's not accurate as much as expressive."

The Jungle Cruise, which culminates with the boat passing through a section of water bubbling with mechanical piranhas, is located in Disneyland's Adventureland, a section of the park that Baxter believes can be easily identified by looking at its plants.

"If you think of Adventureland, you can define it with the palm tree or the philodendron," he says.

Other sections of the park are also defined by their plant life. In Frontierland, there are plants commonly found in the deserts of the American West, including sage and manzanita. New Orleans Square has subtropical trees, Spanish moss, and lots of vines—all vegetation familiar to the real New Orleans.

Just feet away from the Jungle Cruise in Adventureland is a Baxter creation—the heart-pounding Indiana Jones Adventure. As we sit in a replica of a Jeep before it takes off into a tunnel and passes a giant computerized cobra, Baxter tells me that this ride was modeled after the action adventure films starring Harrison Ford as explorer Indiana Jones that began with Raiders of the Lost Ark in 1981.

But, the Imagineer admits it was also made with a specific geographic area in mind. "We created an Indian delta region here," he says.

Fantasyland

After the ride, we walk past the natural-looking hoodoos of Big Thunder Mountain Railroad and enter Disneyland's Fantasyland, a part of the park where scenes from popular Disney films come to life.

In Pinocchio's cobblestone village, conifers are used to create the landscape of northern Italy, where the tale of Pinocchio originated. Meanwhile, the cedars outside Snow White's Scary Adventure Ride are meant to evoke Germany's Black Forest.

"We try and make [the plants] very different, so the guests know they are in a different place," Bush says.

As we stop to look at the long lines snaking out of the Alice in Wonderland Ride, Baxter explains how the park uses a combination of elements to fully emerge guests in different environments.

"We are creating three-dimensional storytelling using a palette of plant materials, building materials, sculpture and water," he says.

While a great deal of the park is based on movies and real geographic regions, there is one section of Disneyland where the park's designers had no reference points at all: Tomorrowland. This section depicts the future, and includes popular thrill rides like Space Mountain.

Baxter says that Disneyland, which featured Tomorrowland when it first opened in 1955, decided to go with an optimistic version of our future. Imagineers planted showy and edible items like artichokes, orange trees, and rhubarb in the area.

"It's not a geographical place," Baxter says, "but wouldn't it be reassuring to know that in the future you are going to be surrounded by things you can eat?"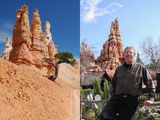 Castles and Crags
Disney Imagineers find inspiration in natural landscapes, like Bryce Canyon, which was re-imagined as Disneyland's Big Thunder Mountain Railroad. The Matterhorn roller coaster replicates the real Matterhorn mountain in the Alps between Switzerland and Italyat 1/100th its original size. Imagineers are also inspired by landscapes created by people. Sleeping Beauty Castle, the symbol of Disneyland, is based on Neuschwanstein Castle, in Bavaria, Germany.

Main Street, U.S.A., the entryway to Disneyland, is a combination of two towns of the early 20th century: Marceline, Missouri, home of Walt Disney; and Fort Collins, Colorado, home of pioneering designer and Imagineer Harper Goff.
Park Plants
Disneyland Resort grows more than 800 species of plants that are native to 40 different countries around the world.
art director
person responsible for the visual appearance of a product.
artichoke
edible plant native to southern Europe.
Black Forest
mountain range in southwestern Germany.
Bryce Canyon
large rock formations (not a canyon) in the U.S. state of Utah.
cedar
tree found in mountainous forests of Europe and Asia.
cobblestone
smooth, rounded stone sometimes used in paving streets.
cobra
venomous snake native to Asia and Africa.
collaborator
partner or someone who works with another toward a specific goal.
compress
to press together in a smaller space.
conifer
plant that produces seeds in hard cones, such as pine. Also called a coniferous tree.
culminate
to reach the highest point or most important part of something.
debut
to appear for the first time in public.
area of land that receives no more than 25 centimeters (10 inches) of precipitation a year.
Disneyland
(1955) theme park in Anaheim, California.
diverge
to differ or branch in two or more different directions.
environment
conditions that surround and influence an organism or community.
act in which earth is worn away, often by water, wind, or ice.
evoke
to suggest or call to mind.
express
to represent or show through words, imagery, or other media.
fanciful
whimsical, lighthearted, or imaginary.
hoodoo
tall pillar or column of rock carved by the forces of weathering and erosion.
Imagineer
person who plans, designs, and oversees the construction of theme parks and other attractions for The Walt Disney Company.
jeep
a U.S. military vehicle, usually open-topped, with four-wheel drive and a quarter-ton load capacity. Jeeps were replaced by Humvees in the 1980s.
jungle
tropical ecosystem filled with trees and underbrush.
the geographic features of a region.
landscape architect
person who plans, designs, and oversees the construction of open spaces such as gardens.
Magic Kingdom
(1971) theme park at The Walt Disney World Resort in Orlando, Florida.
manzanita
shrub native to North America.
Monument Valley
national park with very large rock formations (buttes), in the U.S. states of Arizona and Utah.
navigate
to plan and direct the course of a journey.
Old West
time period that refers to the western part of North America in the 19th century.
optimism
positive or favorable point of view.
palm
type of tree with a tall trunk, no branches, and a leafy crown.
philodendron
plant with large, flat leaves native to the Americas.
piranha
carnivorous, freshwater fish native to South America. Also called caribe.
area of tall, mostly evergreen trees and a high amount of rainfall.
reassure
to encourage or restore confidence.
reference
source of information or direction.
rhubarb
vegetable with edible roots and poisonous leaves.
roller coaster
small track with open, quickly moving train cars, found at many amusement parks.
set designer
person who plans, designs, and oversees the construction of sets for stage plays or films.
Spanish moss
type of flowering plant with long, fuzzy leaves that droop over tree branches. Spanish moss is not a moss.
spire
tall, thin structure, often on top of a building.
subtropical
bordering the tropics, just north of the Tropic of Cancer and south of the Tropic of Capricorn.
theme park
amusement park where all attractions focus on one or more specific ideas, or themes.
tillandsia
plant with long, thin leaves native to South America and Central America.
vegetation
all the plant life of a specific place.
Walt Disney
(19011966) American artist and businessman in the field of entertainment.