Fred Hiebert is an archaeologist. Archaeologists study ancient objects called artifacts. They use artifacts to learn about the past. In 2004, Hiebert was in Afghanistan. He suspected a treasure trove was locked in the president's palace.
The treasure was hidden in several safes. Unfortunately, there was no key. Eventually, someone opened them with a saw.
When the first safe opened, it was amazing, Hiebert says. Out popped bags of gold. "They were so beautiful I was leaping for joy."
As he suspected, it was the Bactrian Hoard. The treasure was made up of 20,000 gold, silver and ivory objects. They were from many different parts of the world. The artifacts are more than 2,000 years old. They are part of Afghanistan's history. Bactria is the name of an ancient region. Part of it was located in the area that is now Afghanistan.
For Hiebert, the gold wasn't the most exciting part. He was more excited to be able to prove that different ancient cultures were linked together.
Archaeologists sometimes find great treasures, but Hiebert says that's not what they are really searching for. They are searching for knowledge. "That's our real gold," he says.
Even 5,000 years ago, people were connected like they are today, he said. Cities and countries traded with each other. They shared ideas and art. Even in ancient times, people traveled around.
Connected Cultures
Archaeology links the past and the present, Hiebert says. Once he was digging at a merchant's house in Egypt. It was built about 800 years ago. There were many traded goods from India and China. On the last day, he pulled up the front mat. Under it was the key of the merchant. The key had the man's name written on it.
Hiebert said it was an amazing feeling to find the key.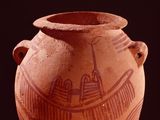 amphora
large, oval-shaped storage vessel with two handles, often used in antiquity.
archaeologist
person who studies artifacts and lifestyles of ancient cultures.
study of human history, based on material remains.
material remains of a culture, such as tools, clothing, or food.
Bactria
ancient region between the Hindu Kush mountains and the Amu Darya (Oxus) river.
Bactrian Hoard
(1st century BCE) archaeological treasure from the burial site of a wealthy nomadic family in Northern Afghanistan, discovered in 1978. Also called Bactrian Gold.
Bronze Age
time period between the Stone Age and the Iron Age. The Bronze Age lasted between 3000 BCE and 500 BCE.
caravan
group of people who travel together for safety and companionship through difficult territory.
circular saw
electric saw with a flat, disc-shaped blade, designed to revolve on its axis.
complex way of life that developed as humans began to develop urban settlements.
edge of land along the sea or other large body of water.
learned behavior of people, including their languages, belief systems, social structures, institutions, and material goods.
curator
person who designs, assembles, and manages an exhibit at a museum or other cultural center.
establish
to form or officially organize.
exhibit
display, often in a museum.
Explorer-in-Residence
pre-eminent explorers and scientists collaborating with the National Geographic Society to make groundbreaking discoveries that generate critical scientific information, conservation-related initiatives and compelling stories.
foster
to promote the growth or development of something.
gold
valuable chemical element with the symbol Au.
good
object or service that serves a human need or want.
heritage
cultural or family background.
historian
person who studies events and ideas of the past.
inscription
record that has been cut, impressed, painted, or written on a hard surface.
ivory
hard, white substance that forms the teeth or tusks of some animals.
literally
exactly what is said, without exaggeration.
medieval
having to do with the Middle Ages (500-1400) in Europe.
merchant
person who sells goods and services.
political unit made of people who share a common territory.
National Geographic Fellow
experts who provide the National Geographic Society with consultation on projects, education and outreach, and environmental and public policy.
National Geographic Society
(1888) organization whose mission is "Inspiring people to care about the planet."
palace
large home or mansion, often the home of a leader or dignitary.
papyrus
ancient writing material, similar to paper, made from the papyrus plant.
perspective
representation of volume or depth on a flat surface.
any area on Earth with one or more common characteristics. Regions are the basic units of geography.
research
scientific observations and investigation into a subject, usually following the scientific method: observation, hypothesis, prediction, experimentation, analysis, and conclusion.
Robert Ballard
(1942-present) oceanographer and National Geographic Explorer-in-Residence.
shipwreck
remains of a sunken marine vessel.
ancient trade route through Central Asia linking China and the Mediterranean Sea.
silver
chemical element with the symbol Ag.
site
specific place where something is located.
social
having to do with a community or other group of organized people.
stunning
stupefying, strikingly beautiful or astonishing.
Titanic
luxury cruise ship that sank in the North Atlantic Ocean in 1912.
trade route
path followed by merchants or explorers to exchange goods and services.
travel
movement from one place to another.
trove
collection of valuable objects.
vessel
craft for traveling on water, usually larger than a rowboat or skiff.
large-scale armed conflict.