The Farming Revolution
Farming changed how humans live. It began around 12,000 years ago.
Before farming, humans traditionally were hunter-gatherers. This means they always searched for food. They moved their homes around constantly.
After farming began they had a more steady food supply. This allowed people to stay in one place.
Soon, cities and civilizations grew. Plants and animals could now be farmed to meet more people's needs. The world's population rocketed. Ten thousand years ago the world had about five million people. Today, there are more than seven billion people.
There wasn't just one reason why people tried farming. It happened in different parts of the world. Some early evidence of farming exists in the
Fertile Crescent
area of the Middle East. This includes areas we know today as Iraq, Iran, Syria, Lebanon, Cyprus, Jordan, Israel, Palestine, Egypt, and Turkey. There, the climate was changing. The last ice age had just ended.
Perhaps better weather conditions made it easier to
farm
certain plants.
Humans first started growing wild crops, including
wheat
,
barley
, and peas in the Middle East. This happened around 9,000 years ago. Figs, a kind of fruit, were grown even earlier. They were probably planted about 11,300 years ago.
Slowly, humans tried farming at home. There is proof of this in ancient villages. Old homes were found with stones used to grind up grain.
Rice was grown in eastern China. This happened around 6,000 B.C.E.
In Mexico, squash was farmed around 10,000 years ago. Corn, also known as
maize
, came later.
Maize first began as a grass-like plant. At some point, the plant had a change in its genes. This made it look like the corn that we know today.
Genes are made up of tiny segments of DNA. DNA is the building block of life. It tells a person's body how to learn and grow. Genes are passed from parents to children.
Mutations are changes that happen in DNA. These changes can be passed from parents to children. Gene mutations can also happen to a living thing during its life.
More people began to grow the mutated maize. Maize-like plants were probably grown about 9,000 years ago. The first corn was grown around 5,500 years ago.
Corn reached North America about 5,000 years ago. This is also when potato growing started. It began in the mountains of South America.
Farmed Animals
Cattle, goats, sheep, and pigs were soon farmed, too. This happened about 13,000 to 10,000 years ago.
Animal farming started in the Fertile Crescent. Farming soon spread further west into Europe. Studies show that goats and other animals came, too.
Before this, people could not drink cow milk. There is a natural chemical in milk called lactose. The human body could not digest it.
Then, something changed during the spread of farming. A mutation in human genes occurred. People became able to drink lactose without problems.
Milk can be healthy for the body. More people were drinking it. The people that could tolerate lactose passed on their genes to their children.
Today, many Europeans have the milk-drinking gene. This proves most of them have cow farmers as ancestors.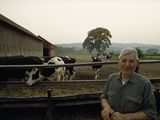 the art and science of cultivating land for growing crops (farming) or raising livestock (ranching).
annual plant
plant with a life cycle of no more than one year, and often much less.
barley
grass cultivated as a grain.
cereal
type of grain, including wheat.
city
large settlement with a high population density.
complex way of life that developed as humans began to develop urban settlements.
cultivate
to encourage the growth of something through work and attention.
the process of adapting wild plants or animals for human use.
dramatic
very expressive or emotional.
evolution
change in heritable traits of a population over time.
farm
land cultivated for crops, livestock, or both.
region extending from the eastern Mediterranean coast through Southwest Asia to the Persian Gulf.
fig
fruit and tree native to Asia.
genetic mutation
change to the genetic structure of an organism.
harvest
the gathering and collection of crops, including both plants and animals.
hunter-gatherer
person who gets food by using a combination of hunting, fishing, and foraging.
livestock
animals raised for sale and profit.
migrate
to move from one place or activity to another.
Near East
imprecise term for countries in southwestern Asia, sometimes including Egypt.
Neolithic
(~9000 B.C.E. to ~2000 B.C.E.) last phase of the Stone Age, following the Mesolithic.
nomadic
having to do with a way of life lacking permanent settlement.
permanent
constant or lasting forever.
prehistoric
period of time that occurred before the invention of written records.
reliable
dependable or consistent.
seasonal
likely to change with the seasons.
society
large community, linked through similarities or relationships.
Stone Age
prehistoric period where human ancestors made and used stone tools, lasting from roughly 2.5 million years ago to 7000 BCE.
transition
movement from one position to another.
wheat
most widely grown cereal in the world.