Hupy has also been introducing his students to the possibilities of UAV technology.
"You could fly a UAV over the tornado's path and save millions upon millions of dollars," Hupy says.
"Take a balloon," he says. "Make a rig and attach the camera. Put it up in the sky and take some pictures."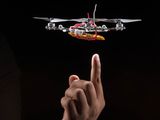 Flight Plan
Hupy is a big supporter of UAVs but he notes that they are not always the best tools for the job. "I do want to stay away from the notion that UAVs are always better than manned aircraft, because over and over again, you can send out a manned aircraft—it depends on the resolution that you want—but a manned aircraft can still gather relatively cheap imagery if you are dealing with a very large area."
Fun Flights
Hupy describes how students can do a fun and easy project with a simple unmanned aerial vehicle.
"They would need an open space. For that high school class, get that kite and get that rig and get that cheap little Canon camera. And once a week, fly above your school grounds, fly up above that garden plot or whatever and then do a time sequence to where you can see the snow melt, you can see the grass greening, you can see the plants coming up in the garden. You can time lapse that, and you can turn it into a movie. And you can have a really cool project."
accuracy
condition of being exact or correct.
aerial
existing, moving, growing, or operating in the air.
science of the origin, development, and culture of human beings.
assess
to evaluate or determine the amount of.
battle
violent encounter during a conflict.
community garden
single piece of land cultivated and maintained by a group of people.
computer
device designed to access data, perform prescribed tasks at high speed, and display the results.
data
(singular: datum) information collected during a scientific study.
drone
unmanned aircraft that can be guided remotely.
factor
element contributing to an event or outcome.
fixed-wing
having to do with aircraft whose lift is generated by speed and the movement of air over its wings, which are unmoving and fixed to the fuselage of the aircraft.
fraud
lie, trick, or misrepresentation played to gain goods and services.
any system for capturing, storing, checking, and displaying data related to positions on the Earth's surface.
study of places and the relationships between people and their environments.
geospatial
having to do with geography and location.
GPS receiver
device that gets radio signals from satellites in orbit above Earth in order to calculate a precise location.
hobby
activity pursued for fun and personal fulfillment, not as a job.
industry
activity that produces goods and services.
inefficient
not able to perform a task well.
infamous
having a very bad reputation.
infrared radiation
part of the electromagnetic spectrum with wavelengths longer than visible light but shorter than microwaves.
insurance
money paid in good health to guarantee financial or physical health if injury or damage occurs.
watering land, usually for agriculture, by artificial means.
leech
carnivorous or bloodsucking worm.
LiDAR
(Light Detection and Ranging) method of detecting distant objects and determining their position, velocity, volume, or other characteristic by analysis of pulsed laser light reflected from their surfaces. Also called LADAR.
motherboard
main circuit board in an electronic device, such as a computer, which may contain sockets that accept additional boards ("daughter-boards").
phenomena
(singular: phenomenon) any observable occurrence or feature.
remote sensing
methods of information-gathering about the Earth's surface from a distance.
satellite
object that orbits around something else. Satellites can be natural, like moons, or artificial.
site
specific place where something is located.
software
electronic programs of code that tell computers what to do.
solar panel
group of cells that converts sunlight into electricity.
survey
a study or analysis of characteristics of an area or a population.
technology
the science of using tools and complex machines to make human life easier or more profitable.
threatened species
organism that may soon become endangered.
tornado
a violently rotating column of air that forms at the bottom of a cloud and touches the ground.
tropical
existing in the tropics, the latitudes between the Tropic of Cancer in the north and the Tropic of Capricorn in the south.
UAV
(unmanned aerial vehicle) aircraft without a human pilot or other technician onboard.
vegetation
all the plant life of a specific place.
Vietnam War
(1956-1975) civil war in Vietnam, with the North Vietnamese supported by pro-communist nations and the South Vietnamese supported by anti-communist nations, which resulted in a northern (communist) victory and a split nation.