On a sunny day in late winter, students from Manzo Elementary School helped harvest spinach, red-leaf lettuce, butter-leaf lettuce, Swiss chard, and mâche (also called lamb's lettuce). The students divvied up most of the harvest to bring home to their families.

The organic vegetable garden at Manzo, in Tucson, Arizona, is supported by four 4,500-liter (1,200-gallon) rainwater cisterns. It is fertilized between growing seasons with compost, made with food waste from the cafeteria.

In a few months, students will be harvesting vegetables not just from soil, but from water, too. This is part of a new aquaponics system set up at Manzo with the help of school counselor Moses Thompson.

"We have a 600-gallon tank for farming tilapia and veggies," he says. "It's a closed system—the fish fertilize the vegetables with their waste and the vegetables filter the waste to keep the water fresh."

Manzo Elementary is a neighborhood school in the Barrio Hollywood area of Tucson. Tucson lies in the heart of the Sonoran Desert in southern Arizona, a landscape freckled with cactus species, from the iconic saguaro to the misleadingly named teddy bear cholla. Less than 105 kilometers (65 miles) from the border with Mexico, the community of Barrio Hollywood is rich with Hispanic heritage and Spanish-speaking populations.

Thompson has worked at Manzo for six years. In his role as counselor, he integrates innovative outdoor learning methods. Gardens, native plant biomes, and other project-based schoolyard features provide an authentic context to teach and practice effective communication, problem-solving, and cooperation. Gardens also provide a tranquil environment for students experiencing anxiety.

"I use the therapeutic nature of gardening to deliver my counseling program," Thompson says. "Also, the habitats and gardens we build with students serve as the setting for individual and group counseling, and classroom guidance lessons."

When Thompson came to Manzo, these types of projects weren't in place. He gave new energy to a vision originally developed by Manzo physical education teacher Adrian Garcia—to develop a native-plants biome.

"The Sonoran Desert Biome was actually the first project where I began to incorporate horticulture and school counseling. When I started at Manzo over five years ago, the Biome was a fenced-in vacant lot filled with tumbleweeds and trash," says Thompson.

"With the support of the Manzo Student Council, we began performing rainwater-harvesting earthworks and installing native plants chosen to attract birds and pollinators. Slowly, I began using the space for counseling, which evolved into the primary system of garden maintenance.

"Another defining force in using the space for counseling was our first plant sponsor, Desert Survivors Native Plant Nursery here in Tucson. Desert Survivors uses horticulture therapy with adults to maintain the nursery, so they not only provided me with plants but also inspiration."

Thompson is a graduate of the National Park Service's Teacher to Ranger to Teacher (TRT) Program, which links national park units with teachers mostly from under-served school districts. In participating parks across the United States, selected teachers spend the summer working as park rangers, often living in the park. Then, during the school year, the teachers bring the parks "into" the classroom by giving lessons that draw on their summer experience.

Ethnobotany and Sustainable Schoolyards

Manzo's horticulture program also includes ethnobotany. Ethnobotany is the study of how plants are used in different cultures for food, medicine, rituals, clothing, or construction. The school's native vegetable garden, for instance, produces crops traditionally harvested by indigenous Native American tribes, such as the Tohono O'ohdam, Yaqui, Hopi, and Apache peoples.

The garden was built in conjunction with the National Park Foundation's First Bloom program. First Bloom is an effort that "reaches out to urban youth in their communities to teach them the science of native plants, encouraging them to protect the environment in America's celebrated national parks and in their own backyards," according to the park foundation.

Rangers from Tucson's Saguaro National Park worked with staff and students at Manzo to design and install the vegetable garden. The garden contains vegetables grown by native peoples of the region hundreds of years ago. These heirloom crops include tepary beans, de arbol chiles, Dia de San Juan corn, Yoeme basil, and O'odham melon.

"Another ethnobotany project that runs parallel to our vegetable garden is our Kino Heritage Fruit Tree Orchard," Thompson says. "Kino Heritage Fruit Trees are trees propagated from the oldest living fruit trees in and around the missions of Father Eusebio Francisco Kino, thought to be introduced to this area in the 17th and early 18th centuries. These fruit trees became some of the most important items exchanged between Europeans and native peoples. Over generations, these fruit trees became integral to local cultures and continue to be used for food and medicine, and have been incorporated into art and religion."

As the gardens developed, students and staff began composting food waste from the cafeteria. Methods include vermicomposting (which relies on worms to help break down the compost) and hot box composting. In hot box composting, heat is generated by the decaying food scraps, which increases the activity of microbes working to decompose the food while keeping pathogens and insect larvae in check. This results in quality batches of compost that can be used in the gardens.

Students collect and turn compost daily. According to Thompson, two things became clear very quickly: "Number one, it's tough to keep enough dry material on hand to keep up with the food waste, and number two, the majority of food waste from the cafeteria is not compostable.

"Thus the vision for building a chicken coop was born," says Thompson.

Chicken Coop as a Learning Tool

"Bedding from the chicken coop, filled with nitrogen-rich poop, can provide additional dry material [for the compost], and the chickens can make use of a lot of the food waste which is not compostable," Thompson says. "And in return, we get local eggs!"

The coop hosts six chickens, which the students look after daily. Chickens are given only organic feed, and they are free to range on the grass and compost piles for about six hours a day. The chicken coop has a cistern for collecting and storing rainwater, which supports the coop's water needs—an important element in a dry desert ecosystem. The coop also has a digital weather station, which measures wind speed and direction, temperature, humidity, dew point, and barometric pressure. The weather station helps students make the connection between climate and food production.

"Our vision for our vegetable garden as well as the chicken coop is not to expand here on campus, but rather to expand into students' backyards," Thompson says. "Barrio Hollywood has a large immigrant population not far removed from backyard agriculture, so it seems like a good fit."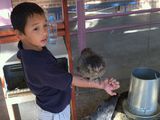 Reconciliation Ecology
At Manzo Elementary School, the native biome project is an example of reconciliation ecologythe science of accommodating wild species within occupied landscapes. "At Manzo we're working to tuck native habitat into our landscaping, courtyards, parking lots, playgrounds, sports fields," says counselor Moses Thompson.
Funding Projects
Projects like native gardens and aquaponics require funding for materials and staff.

"My bread and butter are grants in the $1,000 to $5,000 range. These grants are a little easier to write and the scope of those projects seem to be a good fit for what I can manage," says Manzo Elementary School counselor Moses Thompson.

Thompson also collaborates with other organizations. "We just co-wrote a grant with Tucson Audubon Society, and going through the process with themreally taught me a lot. The grant is in the $10K range. Approximately half will go into project infrastructure and the other half will fund Audubon staff in curriculum development andto do some programming with our kids. So the scope of the project isboth in my comfort zone andhelps Audubon secure the funding they need to operate.

"The more grants I write, the better they get. Also, a lot of what I write in a grant can be recycled, so writing a grant that I don't get isn't necessarily wasted time."
the art and science of cultivating land for growing crops (farming) or raising livestock (ranching).
anxiety
excessive worry or fear about possible misfortune.
aquaponics
practice of raising and cultivating both fish and plants in a single environment, such as a greenhouse.
barometric pressure
atmospheric pressure as read by a barometer.
area of the planet which can be classified according to the plant and animal life in it.
natural or artificial line separating two pieces of land.
cistern
manmade container for storing large amounts of water. Also called a service reservoir.
climate
all weather conditions for a given location over a period of time.
compost
mixture of decaying organic material, such as food waste and plants.
conjunction
combination of items, events, or ideas.
coop
small enclosure, usually surrounded by fence or mesh wire, where chickens or other small animals are kept.
area of land that receives no more than 25 centimeters (10 inches) of precipitation a year.
dew point
temperature at which water in the air condenses to form water droplets on objects near the ground.
community and interactions of living and nonliving things in an area.
ethnobotany
study of how plants are used in different cultures for food, medicine, rituals, clothing, construction, etc.
fertilize
to make productive or fertile.
material, usually of plant or animal origin, that living organisms use to obtain nutrients.
growing season
period in the year when crops and other plants grow rapidly.
environment where an organism lives throughout the year or for shorter periods of time.
heirloom plant
old, non-hybrid variety of plant or crop cultivated through open-pollination.
heritage
cultural or family background.
horticulture
art and science of cultivating plants.
horticulture therapy
practice of "engagement of a person in gardening-related activities, facilitated by a trained therapist, to achieve specific treatment goals." (American Horticultural Therapy Association)
amount of water vapor in the air.
immigrant
person who moves to a new country or region.
characteristic to or of a specific place.
innovative
new, advanced, or original.
the geographic features of a region.
larva
a new or immature insect or other type of invertebrate.
microbe
tiny organism, usually a bacterium.
mission
religious and military outpost, often associated with Spanish Catholic exploration of North America.
national park
geographic area protected by the national government of a country.
Native American
person whose ancestors were native inhabitants of North or South America. Native American usually does not include Eskimo or Hawaiian people.
an area within a larger city or town where people live and interact with one another.
nitrogen
chemical element with the symbol N, whose gas form is 78% of the Earth's atmosphere.
organic
produced according to standards using limited amounts of chemical additives.
park ranger
person who protects and informs the public about local, state, and national parks. Also called a forest ranger.
pathogen
organism that causes a disease, such as a virus.
pollinator
animal, object, or force such as wind that transfers pollen from one plant to another, allowing seeds to develop.
propagate
to multiply or increase in number.
soil
top layer of the Earth's surface where plants can grow.
degree of hotness or coldness measured by a thermometer with a numerical scale.
tilapia
freshwater fish originally native to Africa.
Title 1
(Financial Assistance To Local Educational Agencies For The Education Of Children Of Low-Income Families, 1965) American statute to financially assist public and private schools that have at least 40% of their students qualifying for free or reduced-cost meals, with funds available through "schoolwide" or "targeted assistance" programs.
vermicomposting
practice of using worms to aerate soil and convert organic matter into compost. Also called vermiculture.
weather station
area with tools and equipment for measuring changes in the atmosphere.