Culinary Arts Academy Supervisor Cathy Boenig says that each year, 60 students are accepted into the program after applying.
"We get almost triple the applicants, sometimes quadruple the applicants of what we can accept," she says.
By their junior and senior years, the students in the Culinary Arts Academy are taking a two-period class in culinary arts and hospitality management.
"Everybody has a part to play in the restaurant operation," Boenig says.
Twelfth-grader Christopher DiGioia says that he and his fellow students at the academy get to work at every position within the Five Star Café.
The challenges the students face in the café prepare them for situations that will inevitably occur when they enter the work force.
Getting the first-hand experiences of working in the café can also cause a student to alter their career path.
"I applied for culinary, because I wanted to own my own bakeshop," says twelfth-grader Jacqueline Lynch. "That completely changed for me over the years. I changed, and I want to do hospitality management. I'm more of a people person, and I want to be in the front end of it and communicate with all of the people who come into my restaurants or wherever else I work."
Many of the school's graduates go on to attend Johnson & Wales University, a Rhode Island-based secondary school known for its culinary arts and hospitality programs.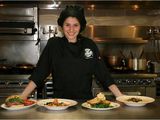 Student Service
Chef Instructor Maura Zafarana recalled a recent dining experience at the exclusive New York City restaurant Bar Boulud. "For my 50th birthday, one of my students was working there as a sous chef, and they spoiled us rotten," she says. "I was treated like royalty."
Student to Chef
Chef Instructor Sara Malbari graduated from the Culinary Arts Academy back in 1997. Now she teaches baking and pastry-making at the school.
Salad Days
Chef Instructor Toni Kovak helped write the curriculum for the Culinary Arts Academy when it opened as a two-year program in 1995. It was expanded into a four-year program in 2000.
"My original requirement was . . . to start a licensed restaurant and a commercial food service operation with the students in the regional district," she says. "So it was basically a blank canvas."
accomplishment
unique achievement, or something done well.
chef
head cook, responsible for menus, food preparation and presentation, and management of staff.
commercial
having to do with the buying and selling of goods and services.
communication
sharing of information and ideas.
community
group of organisms or a social group interacting in a specific region under similar environmental conditions.
comprehensive
full, wide-ranging, or inclusive.
computer science
study of the design and operation of computer hardware and software, and the applications of computer technology.
cost-effective
producing excellent profit or product for the amount of money or work invested.
culinary
having to do with cooking or food preparation.
learned behavior of people, including their languages, belief systems, social structures, institutions, and material goods.
curriculum
classes or courses of study offered by a school or a specific school program.
devote
to concentrate on or commit to something.
material, usually of plant or animal origin, that living organisms use to obtain nutrients.
hors d'oeuvre
first course of a meal, usually smaller and lighter than the main dish.
industry
activity that produces goods and services.
inevitable
certain to happen, unavoidable.
innovative
new, advanced, or original.
law enforcement
individuals or organizations that make sure people obey government rules.
license
to give someone or a group of people formal or official permission to do something.
monitor
to observe and record behavior or data.
nonprofit organization
business that uses surplus funds to pursue its goals, not to make money.
pastry
food item, such as pie crust or doughnuts, made from dough.
representative
someone or something who acts in place of a group of people.
rotate
to turn around a center point or axis.
seasonal
likely to change with the seasons.
service industry
business that provides assistance to a customer. Also called tertiary economic activity.
degree of hotness or coldness measured by a thermometer with a numerical scale.
thrive
to develop and be successful.
trade
buying, selling, or exchanging of goods and services.
trait
characteristic or aspect.
U.S. Navy
military branch whose mission is "to maintain, train, and equip combat ready Naval forces capable of winning wars, deterring aggression, and maintaining freedom of the seas."
valuable
worth a considerable amount of money or esteem.
vocational
having to do with instruction or guidance in an occupation or career.