The sleuths began their investigation in 2007, when FBI Seattle Special Agent Larry Carr decided to release information about the crime to the public. 
The key tool that Kaye and his team employed was an electron microscope, which uses electrons to create a higher magnification than a regular microscope. Electron microscopes had never been used to examine physical evidence from the Cooper case. 
"In 1971, when Cooper jumped out of the airplane, the FBI didn't even have an electron microscope," Kaye says.
Kaye and his team used electron microscopy to analyze the money found on the sandbar. Since its discovery, the money had turned black. 
When Kaye looked at the bills with his electron microscope, he discovered something surprising. 
"We started investigating the black coloration of the bills, and the electron microscope told us it was made of silver," he says. "This is very unusual to find silver on a bill like that."
But the silver lining turned out to be a dead end for the citizen sleuths. 
The FBI was impressed with the work of Kaye and his team, however.
So the agency allowed the citizen sleuths to examine a tie, found on the hijacked plane, that most likely belonged to the criminal. Kaye says the tie had been in an FBI office for 40 years.  
Once again, Kaye and his team used the electron microscope. Once again, they found something surprising. 
"There's a second piece of evidence pointing toward a chemical plant," Kaye says. 
More importantly, the discoveries made the team doubt that anyone on the FBI's current list of suspects is D.B. Cooper. 
"We don't feel that any of the current crop of suspects have anything to do with the crime," Kaye says. 
Kaye thinks science and time will help close the case. 
"We are hoping that when he dies," Kaye says, "someone who knows something about him comes forward."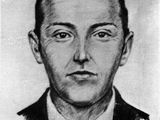 Microscopic Investment?
Most people don't own electron microscopes. Many researchers get to use a university's electron microscope for just an hour or two. Tom Kaye bought his electron microscope on eBay, and he said it has been a very worthwhile investment. 
"It's been absolutely beyond words worth it," he says. "You can't imagine the world you can investigate with an electron microscope. You go to a place where no one has gone before."
alloy
mixture of two or more metals.
the distance above sea level.
chemistry
study of the atoms and molecules that make up different substances.
crowdsource
to collect and use work contributed by the public, usually through an internet-driven campaign, toward a specific project or goal.
debate
to argue or disagree in a formal setting.
dredge
to remove sand, silt, or other material from the bottom of a body of water.
electron
negatively charged subatomic particle.
electron microscope
powerful device that uses electrons, not light, to magnify an image.
engineer
person who plans the building of things, such as structures (construction engineer) or substances (chemical engineer).
evidence
data that can be measured, observed, examined, and analyzed to support a conclusion.
forensic investigator
person who works with law-enforcement agencies to solve crimes, often using science and technology.
forest
ecosystem filled with trees and underbrush.
hijack
to steal a transportation vessel, such as a truck or plane, or the cargo it is carrying.
hydrologist
person who studies the distribution, circulation, and properties of water.
manufacture
to make or produce a good, usually for sale.
metallurgist
person who studies the properties of metals and the technologies used in extracting them from ores, refining them for use, and creating alloys and useful objects from them. 
paleontologist
person who studies fossils and life from early geologic periods.
pollen
powdery material produced by plants, each grain of which contains a male gamete capable of fertilizing a female ovule.
ransom
fee associated with the release or return of property.
sandbar
underwater or low-lying mound of sand formed by tides, waves, or currents.
silver chloride
white, granular compound (AgCl) that darkens on exposure to light, often used in fingerprinting and photo-processing.
sleuth
detective or investigator.
stainless steel
metal that is very resistant to rust.
technology
the science of using tools and complex machines to make human life easier or more profitable.
titanium
chemical element with the symbol Ti.
upstream
toward an elevated part of a flow of fluid, or place where the fluid passed earlier.
environment that has remained essentially undisturbed by human activity.